Loyalty programs are key to retaining customers and even reaching new audiences. A recent study has shown that rewards programs are more than just an accepted part of company-consumer interaction; they are expected by over half of modern consumers. Recent years have seen a sharp increase in loyalty program expansion as an increasing number of consumers have started to actively seek them out.
However, as the market becomes increasingly competitive and consumers are choosing between more and more loyalty programs, these programs need to go above and beyond. Brands should be thinking beyond the old "points for purchase" model and design their loyalty programs to guide customer behavior, encouraging social and behavioral actions, such as peer referrals. Referral programs have been an effective marketing method on their own for years, but combining loyalty with referrals can help you get the most out of both programs, simultaneously boosting acquisition and retention.
Loyalty marketing programs encourage customers to interact with and promote your company while still feeling like they are being compensated for their efforts. In exchange for rewards like discounts, gift certificates, and exclusive perks, customers purchase more, write reviews, attend events, connect on social media, subscribe to emails, or any other action your company determines would be beneficial to your marketing efforts. Although referral programs can exist independently, depending on your goals and business model, referrals can also be incorporated into your loyalty program, or your marketing strategy can take advantage of both. Loyalty programs and referral programs can be incredibly effective on their own, but here's why using the two together can make a major impact on your brand.
Using Your Loyal Customers to Get More Customers
Referral marketing affords access to your customer's circle of friends and acquaintances. Consumers are much more likely to take a recommendation from a peer than they are to trust traditional advertising. Referred customers are also more valuable to your company than customers acquired by other means. A customer that is referred by a friend already has a positive opinion of your company, which equates to being four times more likely to buy. Referred customers also have a higher chance of becoming long-term customers; according to a study in Harvard Business Review, customers that are referred by a friend are 18% more likely of remaining with your company.
Presenting a referral opportunity at every consumer interaction capitalizes on the principle of direct proportionality: the total number of referrals is directly proportional to the overall chances of conversion. For example, Marine Depot, an aquarium supply store, saw a 35% increase in their conversion rate when they combined customer rewards and referral marketing to create a community around their brand. Thanks to the modern abundance of on-the-go technology and social media, the referral process is easy for your brand and your customer.
Better Use of Already-Existing Loyalty Program Infrastructure
If you already have a customer loyalty program, you have the basic infrastructure, including member accounts, points, and excited customers, that you need for a successful start to a referral marketing campaign. Adding referral marketing to your existing platform will easily increase your ROI on your current rewards program investment.
Meanwhile, you also have all the information you need for effective, targeted advertisement of your new referral program. After all, your best customers are the ones that are the most likely to recommend you to their friends in the first place. Adding rewards for referrals will make your customers feel appreciated which, in turn, will make them even more likely to refer and stay loyal over the long term.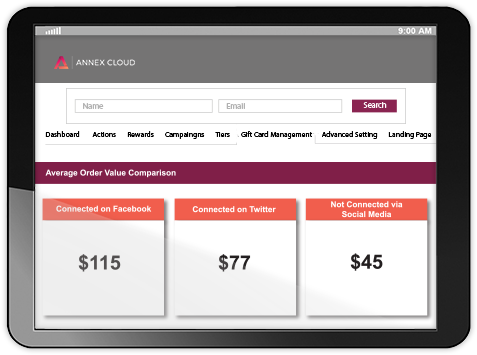 Gamification Possibilities
Games can be a fun way to keep customers engaged with your company. Both referral and loyalty programs are inherently well suited to gamification. Customers are already getting points for referrals and purchases, so why not make the entire process more fun by turning it into a game?
You can use your products and brand story as part of the game theme, which will add a level of authenticity and instantly help customers feel more emotionally connected to your brand. Adding taskbars that measure progress and visible tokens or gems to help track rewards are also great ways to keep customers motivated. Incorporating gamification will allow your customers to see both loyalty and referral rewards as something fun, rather than another item on their to-do list. Meanwhile, your customers will also want to stay engaged to achieve new rewards or a higher level on the taskbar.
Uber, for instance, has implemented gamification into its referral program. The program assigns each customer a personalized referral code as soon as their account is activated. To encourage their customers to share those referral codes, Uber placed a progress bar in its program CTA to add a game aspect to their referrals program.
With all of the potential benefits, it's easy to see why adding referral marketing is considered to be one of loyalty program best practices.