Solve your biggest enterprise challenges
Collect customer data with consent
Deliver omnichannel experiences
Quickly adapt, pivot and test
Go beyond legacy limitations
Maximize your competitive edge
Scale without limits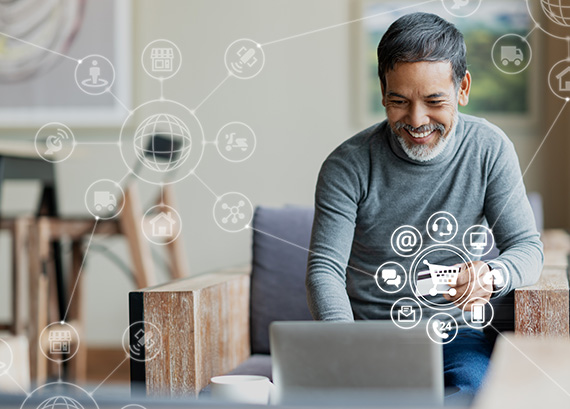 Deliver omnichannel consistency
Annex Cloud delivers real business results
Empower your teams with a full set of ever-evolving next-gen loyalty capabilities at their fingertips while minimizing cost, hassle and risk.
Engage
Leverage a full engagement suite, including social, surveys, referrals, gamification and more to engage members between transactions and keep them coming back.
Personalize
Leverage our cutting-edge progressive profiling to collect unique zero-party attributes. Take fast and targeted action on any combination.
 Retain
Incentivize member engagement at every touchpoint. Add meaningful value across their entire journey.
Respond to changing customer needs in real time. Quickly and easily see what is and isn't working, and pivot on a dime.
Go to market fast
Deploy and configure quickly and easily with minimal technical resources. Ongoing, marketing can easily change a promo or reward, and update tiers and campaigns with a few clicks.
Support complex ecosystems
Templating makes it easy to replicate and customize and localize programs across regions, brands, languages and currencies.
Fine-tune targeting
Continually learn about members and leverage zero-party data to segment and target based on any combination of activities, behavior and preferences.
Loyalty is all we do. Annex Cloud's technology-first approach ensures you'll deliver a rewarding customer experience today and tomorrow.
Ensure interoperability
Our continual investment in integrations and APIs ensures your loyalty platform will work seamlessly with your Martech stack as it evolves.
Stay ahead of competition
Our 140-plus developers are dedicated to keeping your brand ahead of the market with the latest technology, tactics and capabilities.
Maximize flexibility
Our SaaS-based platform allows you to immediately take advantage of new capabilities we build for every new client and vertical—at no extra cost.
Easily accommodate growth, expand into other regions and brands, and collect unlimited customer attributes.
Easily expand to new markets
Templating facilitates market expansion without the need for excessive customization. Streamline and optimize while keeping costs in check.
Adapt and grow with ease
Start with the basics. Easily and quickly add and change as you grow without time-consuming and costly development.
Enjoy consistent autonomy
Multinational organizations can deliver a consistent customer experience while allowing local autonomy.