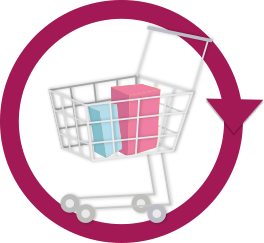 Achieving customer loyalty is the path to accelerated revenue growth.
Loyalty drives brand preference, frequency of purchase, increases in average order values (AOV) and most importantly, customer retention.
A loyal customer generates consistent revenues at a fraction of the acquisition cost and will be an advocate for the brand who will refer family, friends and colleagues at zero acquisition cost. There are a lot of businesses who use loyalty programs but many are not using it very effectively to ensure the right customers are being targeted and rewarded for the behavior that actually helps the brand achieve success. An experiential customer loyalty program software can help solve for this. It is a comprehensive and technologically advanced system that makes customer retention, loyalty and reward initiatives/programs easy. For any loyalty program to be successful, there are two aspects, first each audience segment needs to be targeted with the most appropriate loyalty program and then program execution should be loyalty management software boosts the quality of both these aspects. A well thought out loyalty management software helps in identifying customer behavior and purchasing patterns and provides offers that are perfectly aligned with their preferences.
Here are some primary advantages of using a loyalty management software to run a loyalty program:

The insights and data that brands gather from a loyalty management software can help them plan loyalty programs seamlessly, easily and comprehensively. By segmenting customers and creating personalized experiences, brands can increase lifetime value of customers considerably.

With the help of a loyalty management software, brands can map customer journeys and predict future journeys and based on that, have targeted loyalty interventions.

An effective loyalty management software aggregates data based on customer behavior and centralizes that data to drive meaningful loyalty programs that foster customer retention and loyalty and improves customer lifetime value as well.

A robust loyalty management software can support large audiences participating in the program leading to operational scalability.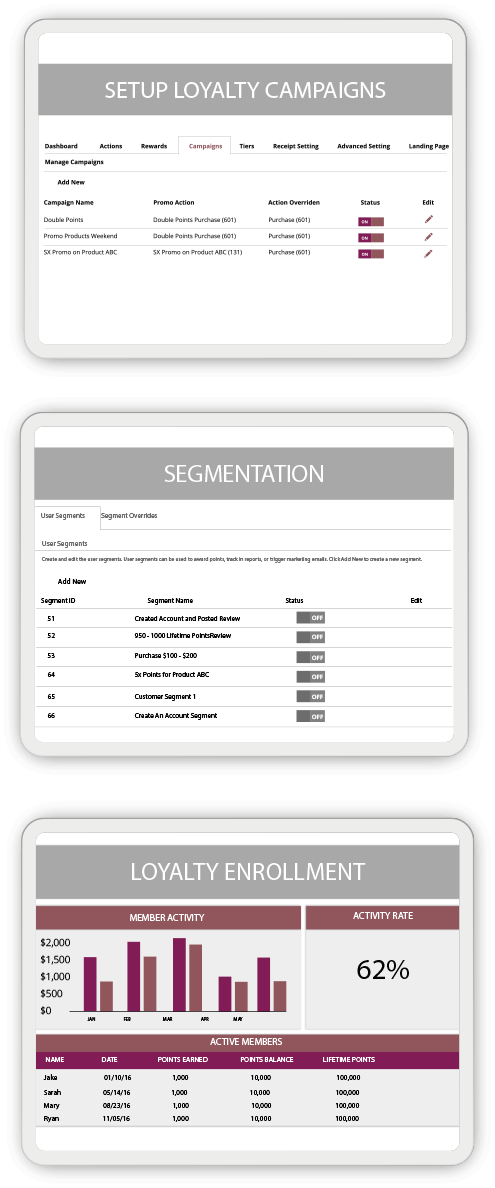 Let's look at the key features of a loyalty management software:
Currently, the key brand differentiator is customer experience more than product or price. Providing a seamless and rewarding interaction with a brand across all touchpoints is vital. A well designed loyalty management software connects your brand with the customer across all touchpoints and has the ability to monitor individual customer purchasing behavior across online and offline channels. This makes a highly personalized program targeting possible.

A loyalty management software plays a key role in creating customer relevant programs too. Based on the customer data insights, profiling of types of customers and journey stages can be done.

In today's competitive age, customers demand more than a simple earn and burn points program. A forward-thinking Loyalty management software is extremely important to cater to the changing needs of the customer. Features like Gamification and Leaderboards are becoming very popular amongst the customers.

A forward-thinking Loyalty management software is extremely important to cater to the changing needs of the customer. Features like Gamification and Leaderboards are becoming very popular amongst the customers.

Customer loyalty for brick and mortar stores is equally important. Customers are able to redeem coupons/benefits and get rewarded for their purchases and interactions within the physical store.

Leveraging social media has proven to be a prudent strategy for brands to connect with their audience. Incentivizing social media interactions like signing up for newsletters, connecting with their social media pages, opting in for in-store events are available within a great loyalty management software.

Referral Marketing not only helps acquire new customers but are connected to retention of existing customers as well. Loyalty management software systems that help take advantage of both strategies can level up a brand's loyalty program

A competent loyalty management software is able to support a flexible rewards management engine that supports availing of points, rewards, coupons/gift cards and other experiential benefits.

Strong and intuitive reports are available within an exceptional loyalty management software to adapt and change marketing strategy to suit the needs of the customer.
Here's a look at key benefits of choosing Annex Cloud's Loyalty Management Software
Paid Membership loyalty program capability to support different brands whose audiences pay a premium to unlock benefits.

There's a Native receipt scanning engine that allows manufacturers to identify and reward their customers.

Fully Integrated functionality to support User generated content and Referral Marketing solutions are there within the loyalty program to accentuate a simple earn and burn points offering.

There are gamification and leaderboard capabilities to increase customer interaction and engagement.

Advanced tier and campaign management features allow brands to create highly personalized rewards and benefits for their customers.


It's possible to run an omni-channel program that not only incentivizes the customer, but also tracks user interactions across all touchpoints.

Strong and flexible reward management capabilities are available that cater to different audience demographics as well as provide innovative and meaningful rewards.

Annex Cloud's loyalty management software allows users to connect their social media profile to their loyalty program and get rewarded for such actions.

Enterprise readiness and availability of the platform across global markets and regions.
Happy to help to build your robust Loyalty Management Software
To learn more about Annex Cloud's advanced Loyalty Management Software, please fill out the "Request a Call" form.