A combination of modern technology and recent social, economic and political events have given rise to a new type of customer. With millennials and Gen Zers becoming part of the key consumer pool, and with Gen Xers and even Baby Boomer consumers becoming more tech-savvy, the average consumer now has more choices and can more easily change brands than ever before. To retain customers and entice them to stay with their brand, companies have turned to the prospect of loyalty rewards. Here are some of the most interesting new loyalty program statistics:
Loyalty Programs Statistics: Value of Existing Customers
You know that your existing customers are valuable, but did you know how valuable?
$1.6 trillion per year is lost by businesses when their customers decide to switch.
The chances of selling to a new customer are 5-20% compared to 60-70% with existing customers.
Bringing in new customers can cost as much as 16 times more than retaining your current clients.
80% percent of your future profits will come from just 20 percent of your existing customers.
Existing customers contribute to 65 percent of a company's business, which means that only 35% will come from potential newcomers.
Why Customers Leave
Thanks to the convenience of modern technology, it is easier than ever for customers to change brands. Here are some of the most common reasons that your customers might make the switch:
A typical American business will lose 15 percent of its customers each year.
68% of millennials report that they will not be loyal to a brand if that brand does not have a good loyalty program.
78% of consumers have reported abandoning a transaction due to a poor customer service experience.
60% of consumers have reported leaving a business due to unfriendly service, and 46% reported leaving due to an employee's lack of knowledge.
The Value of a Good Loyalty Program
87% of shoppers reported that they want brands to have loyalty programs
Over half of the surveyed population reported that, if they like a brand, they will rarely purchase something different. This includes 55% of older millennials, 53% of younger millennials and 51% of Gen Z said the same thing.
64 percent of brands reported an increase in loyalty memberships in the past year alone.
Consumers are retracting loyalty, or switching loyalty programs faster than even three years ago, with 78% of consumers reporting they are retracting loyalty at a faster pace.
54% of consumers say that they would consider doing more business with a company for loyalty rewards.
46% said that they have already increased the amount of business with a company because it offered loyalty rewards.
What Loyal Consumers Want
Market surveys asked consumers what they wanted out of a loyalty program, and some of the answers were pretty specific. Here are the top loyalty program statistics:
A Personalized Experience
80% of consumers say that they want a personalized experience and are more likely to do business with a company that offers one.
44% of U.S. consumers are loyal to brands that engage them by asking for help in designing or co-creating services and products.
41% of Americans report loyalty to organizations that offer new products, services or experiences.
33% of customers in the U.S. say they favor brands that offer a "multi-sensory experience" using new technologies such as virtual reality or augmented reality.
23% of U.S. consumers reported loyalty to brands that partner with celebrities.
42% of American buyers are loyal to a brand that friends or family do business with.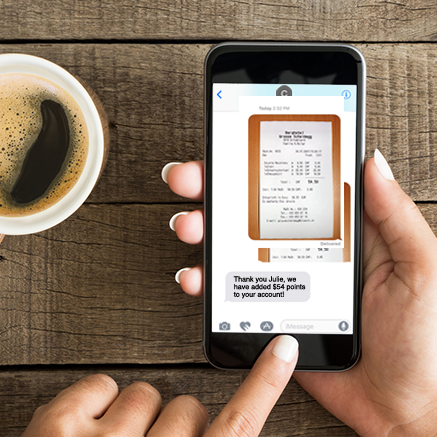 Fuel Rewards
The desire for fuel rewards is on the rise, with 36% of consumers shopping more frequently at stores where they can earn fuel savings, compared to 26% in 2016.
64% of Americans report participation in a program that will help them save on gas.
Fuel loyalty programs have risen 10% in the last two years.
20% of consumers say that they will specifically shop at stores that will help with fuel savings.
73% of customers agree that the best promotions have discounted fuel with in-store purchases.
U.S. consumers are ranking fuel rewards over cash-backs, with 39% preferring fuel and 35% preferring cash-back loyalty rewards.
Better, More Conscientious Brands
47% of millennial women said that they know their brand's origin story.
41% of millennial women know the name or names of brand founders.
40% of millennials follow a brand founder or someone affiliated with top brands on social media.
Two-thirds of consumers reported that they think it's important for brands to take a public stance when it comes to social issues.
57% of millennial women agreed that their purchase decisions are driven by brand values and/or stance on important issues.
With customer loyalty programs statistics like these, it's no wonder loyalty rewards programs are gaining so much momentum for the world's top brands.