In the age of remote consumerism, marketers have had to reshape their strategies in order to appeal to their customers. One such strategy is the renewed emphasis on a questions and answers platform. A Q&A platform can be composed entirely of questions from your customers, commonly asked questions, or a mixture thereof. The goal is to allow consumers to voice their questions as well as to provide responses to questions. Here are some of the key benefits of incorporating a question and answer platform on your website.
Q&A Provides Reassurance
The modern shopper is often distrustful of traditional advertising and will instead conduct individualized research before purchasing a product. A study by Google showed that the average shopper will consult 10.4 information sources before they make a purchasing decision. In many cases, these sources tend to take the form of reviews. In fact, 84% of consumers trust a review as much as a recommendation from a friend. An active Q&A section that incorporates user advice and feedback via replies or questions gives your customer an idea of how others responded to the product. If many former buyers are ready to answer questions and advocate for that product, current customers will have more trust in both your product and your brand. In this way, seeing a peer reply to a question about the product in a positive manner can be akin to reading a review.
Demonstrate Customer Support
Customers that are new to your brand and shopping online may not know how committed you are to customer service. However, if that customer comes across a product Q&A section where questions are answered promptly and in a professional manner by brand associates in addition to peers, this will demonstrate the quality of your brand's commitment to customer service.  If you can quickly answer a consumer question online, that customer now feels more supported by your sales team, which gives them a personal connection to your brand.
Increase Engagement and Improve Metrics
The more a customer interacts with your site, the more likely they are to make a purchase. The Q&A gives customers another way to interact with your site and your product by reading through answered questions, which often include feedback. Research shows that customers are 70% more likely to buy after a positive interaction, while shoppers that interact with both reviews and the Q&A are 105% more likely to buy.
Meanwhile, interaction, as a metric, is easy to measure. Logically, the more consumers engage with your brand the more likely they are to turn into loyal customers. In fact, most types of question and answer software already have a way of measuring interaction. According to Curtis Bingham, engagement is easier to gauge than other traditional loyalty metrics.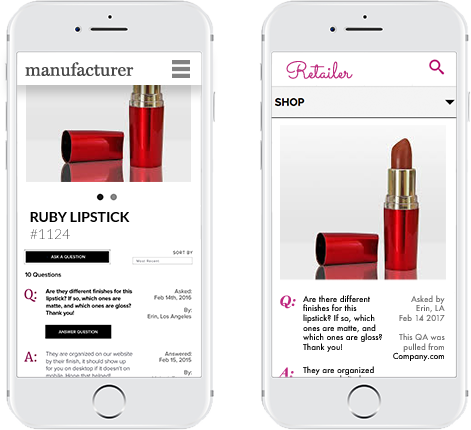 Tell Customers All They Need to Know
Even a comprehensive product page can be missing information that the customer finds important. If the customer cannot find an adequate source of answers on your site, they may give up on the product altogether. Alternatively, the customer may go to other sources, often other online retailers, with their questions. In such cases, the customer may even choose to purchase from your competitors simply because they provided more information. Having the Q&A section in place will help your customer get the information that they need on your site either from a customer service representative or a peer answer. Having their question answered immediately may help encourage in either case, since the customer will have no need to leave your site to search for information elsewhere.
Online Reputation Management
The online world is rich in review forums, platforms, and customer communities. Even one customer who is dissatisfied can post poor reviews, spread misinformation and badly damage the reputation of your brand. Fortunately, having a Q&A platform will allow you to take control of your brand's reputation by addressing complaints and misinformation directly. In many cases, if a dissatisfied customer is appeased with a favorable resolution, they will delete or revise their review when asked. By directing customers to your own site's Q&A, you are making sure that the customer sees both sides of any story and helping avoid the spread of harmful rumors by setting the record straight.
The Q&A also plays a role in your site visibility. Search engines like google will sort your content for keywords and activity. The more active your Q&A, the better your prospects. With SEO-savvy Q&A software, you will not only draw your customers to your site for information but will also draw in curious individuals who are searching for those keywords.
With increased engagement and the ability to control the information that is presented to your customers, it is easy to see why so many brands are adopting Q&A sections.