Increase customer acquisition efficiently
Boosting customer acquisition can be hard, especially with stiff competition and constant advertising noise. A referral marketing program offers retailers a great opportunity to reach new customers. Annex Cloud's Referral Marketing Cloud delivers flexible strategies and robust reporting tailor made for retail brands.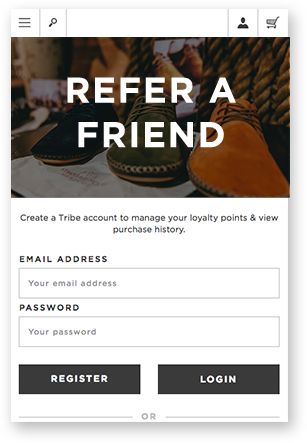 Omni-Channel Referrals
Annex Cloud's Referral Marketing Cloud offers comprehensive omni-channel capability to empower your customers to refer their friends wherever and whenever is convenient for them. Robust online referral integrations, deep app linking, and in-store strategies including referral receipt codes and packaging calls to action all help cultivate more genuine referrals.

---
Influencer Marketing
Influencer Marketing offers brands a single place to manage all influencer marketing activity. A robust Influencer Marketing portal offers a single location to manage influencer campaigns, referral codes, and payments or incentives. By streamlining Influencer Marketing, we can help you continuously improve your strategy to quickly boost customer acquisition.

---
Referral Marketing Strategies
Annex Cloud's comprehensive Referral Marketing Cloud offers a wide range of referral marketing strategies and implementations to meet any number of goals. From post purchase referral integrations to share and win opportunities, and direct refer a friend programs, Referral Marketing makes it easy to tackle everything from increasing purchase rates to your brand's email database.

---
Referral Marketing Reporting
Comprehensive Referral Marketing reporting offers brands tailored data and insights to help increase ROI and revenue. Annex Cloud offers extensive experience with retail brands helps deliver the necessary insights to help brands effectively increase customer acquisition.

---