Stand Out From Noisy Advertising to Boost Acquisition
For many consumer brands and manufacturers reaching new customers is a constant challenge. Many manufacturers have limited channels through which to connect with new customers and those channels are often noisy and hard to stand out in. Referral marketing strategies offer a great way to connect with new customers in a more personal and direct manner.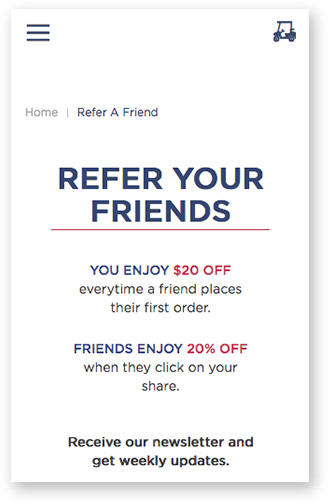 Referral Marketing Strategies
Annex Cloud's Referral Marketing Cloud offers a variety of strategies and implementations to boost acquisition across the board. From purchases to new customer email addresses, we offer solutions and best practices to tackle any challenge.

---
---
Referral Marketing Recruitment
Referral recruitment can seem like a daunting task for many manufacturers. Not only can it be hard to connect directly with customers, but understanding what will motivate them to take action requires a unique level of insight. Our Customer Success Teams deliver expertise and our platform offers extensive 3rd party integrations to create a powerful referral marketing engine.

---
Referral Marketing Reporting
Once you've implemented a referral marketing solution, collecting data becomes necessary to draw insights and fine tune your strategy. Our referral marketing solution comes with customizable reporting and analytics so you can optimize your manufacturer referral program.

---
---