Channel Positive Word of Mouth into Real Revenue
Conversations about different tools, comparisons, and recommendations are prevalent in B2B industries. After all, co-workers and industry peers are always looking to each other for advice and tips. Referral programs offer B2B companies a way to channel these referrals into measurable revenue and proactively recruit referrals to boost customer acquisition.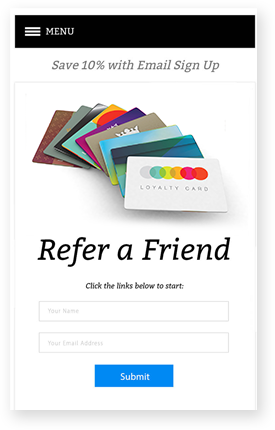 Omni-Channel Referrals
Many of the conversations and informal referrals that happen among B2B customers happen offline but most referral solutions focus on online referrals. While online referral calls to action boost awareness and participation, they don't help channel and measure the offline informal referrals that are already happening. Annex Cloud's referral solutions offer a comprehensive omni-channel capability to facilitate and encourage referrals wherever and whenever is most convenient for your customers. Unique referral codes and URLs and in-app referrals help you proactively recruit referrals and track the impact on your bottom line.

---
Flexible Referral Strategies
Each B2B company faces unique needs and challenges. Our Referral Marketing Cloud is built with that in mind. Flexible referral strategies feature everything from share and save functionality to offline referrals, and referral campaigns allowing you to build a program that tackles all your goals and fits your team.

---
Customizable Referral Reporting
B2B referrals are unique and your reporting needs to reflect the necessary referral data and customer information to help you draw insights and improve your strategy. We offer comprehensive and customizable referral marketing reporting to help you optimize your program. Your dedicated Customer Success Team will work with you to devise the ways you want to track referrals depending on your end goals and will set up a system of analytics and scheduled reports.

---