Connect directly with customers to build lasting relationships.
Customer loyalty gives consumer brands and manufacturers a unique opportunity to connect directly with their customers and strategically market to them to boost repeat purchase rates and lifetime value. Loyalty rewards also create a way for manufacturers to compete with retail pricing while maintaining compliance with MAP pricing policies. Finally, it gives manufacturer brands an opportunity to collect valuable customer demographic and social graph data.

Connect Directly with Customer Loyalty for Consumer Manufacturing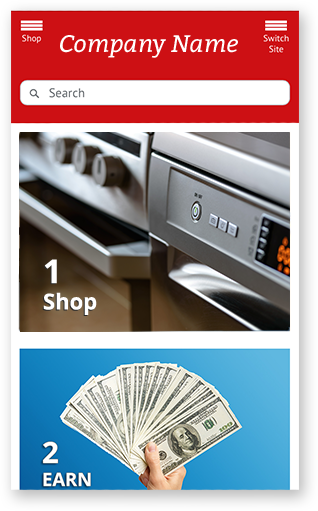 ---


---

Receipt Data Aggregator
Reward customers for their brand loyalty when they purchase your products in retailers' stores. Our proprietary Receipt Data Aggregator technology breaks down the barriers manufacturers face to implementing a dedicated loyalty program. Previously it was difficult if not impossible for customers to earn points for products they bought in a 3rd party retailer store but, the Receipt Data Aggregator makes it possible. All customers have to do is upload or text a picture of their receipt and optical character recognition technology processes the receipt and awards points for only the purchases they made of your products.

---
---
Loyalty Packaging Insert
Put loyalty program calls to action and reminders in front of customers when they're most excited about your company, the moment they open the box of a product they just purchased. Whether customers are buying products through your retailers, in-store, or online, a loyalty packaging insert ensures they won't miss your loyalty program calls to action.
---
Branded App Barcode Scanner
If you already have a branded app, we make integrating loyalty easy. Our native iOS and Android SDKs make it easy to add loyalty program enrollment, customer dashboards, and reward redemption into your app so your customers can easily check their standing, find out what rewards they have available, and redeem their rewards anywhere.
---
---