Deliver Tangible Incentives to Keep Your Customers Committed
The needs of B2B businesses and clients you serve vary widely, but one thing holds true for the majority of B2B companies, the purchase choices your customers make aren't tied to an emotional investment in your brand. You need a strategy to keep your brand at the top of mind and stay connected with your customers. Our customer loyalty programs offer the customization and flexibility to fit your company's goals and needs.

Boosting B2B Sales with Customer Loyalty + Advocate Marketing Software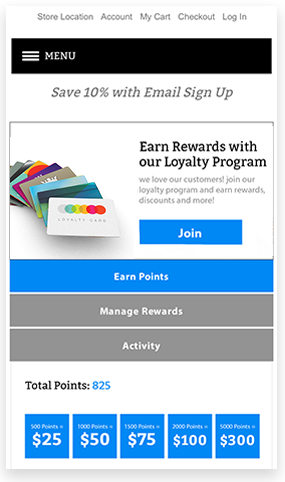 Mobile Apps:
Loyalty Software for B2B companies require the flexibility to choose the implementations that work best for your needs. Full omni-channel functionality ensures you can design an app that works for both in-store purchases and online purchases.
---
POS Integration:
If you have brick-and-mortar establishments, ensure your customers can collect and redeem their loyalty points with seamless POS integrations.
---
Online:
Seamlessly build loyalty into your website. Integrate your loyalty program into the checkout process, create dedicated loyalty profiles to show customers their standing, and utilize loyalty CTAs across your website to incentivize participation.
---
Team Profiles:
Ensure your relationship with customers extends beyond an individual. Create team loyalty profiles to make sure when your point of contact switches jobs, your channels of communication stay in-tact.