Annex Cloud designed, implemented, and continues to moderate a customized Visual Commerce solution for Melissa & Doug. Visual Commerce is an advocate marketing solution that leverages the authenticity and power of customer photos.
Visual Commerce automatically pulls customer photos from social networks like Instagram, in addition to allowing users to directly upload images to Melissa & Doug's site. Then, the photos are easily configured into flexible, shoppable displays, like the toy seller's customized homepage gallery. The gallery lets viewers sort by hashtag, seeing different types of themes and collections.
When users click on a specific customer photo, they can see and shop the toy associated with it. Consequently Visual Commerce offers a dynamic route to purchase that makes use of colorful and exciting user generated content.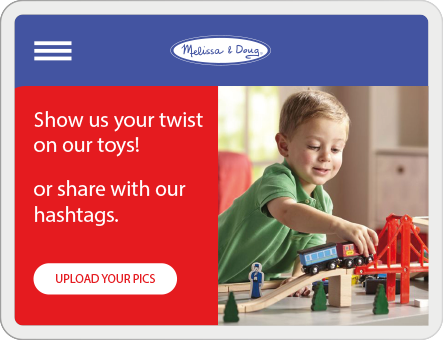 Best Practices In Focus: Explicit Permissions
Explicit permissions refer to outright asking customers to reuse their images, rather than implicitly assuming that your brand can utilize them because they were marked with your hashtag. Social Annex's Customer Success Team always recommends using explicit permissions, as they're more straightforward and respectful to users, and they're less legally murky. However, whenever children are in photos, explicit permissions absolutely must be used.
Melissa & Doug's audience is happy to share their photos with the brand. 79% of users consent to letting the toy company use their images. To implement the solution, Annex Cloud made use of its Demandware pre-integrations while working with the systems integrator Born. In terms of maintenance, Annex Cloud does the first level of moderation for Melissa & Doug, which consists of approving images. Melissa & Doug's team then does the second level of moderation--requesting permissions to use photos from consumers as well as associating images with products. By making these user photos both readily available on the site and shoppable, Visual Commerce addresses Melissa & Doug's desire to capitalize on how happy their customers are. The images, site, and solution look great, but there are also concrete results...
Annex Cloud Products Used
Visual Commerce