The best customer referral programs provide a powerful tool for growing a business organically. When you use referral marketing, you are essentially employing a platform for satisfied customers to advocate on your brand's behalf. That's because people tend to trust recommendations from their friends and relatives. Here are a few tips and ideas to optimize your referral marketing strategy.
Why Build a Customer Referral Program?
Building a referral program is a great way to expand your customer base at a minimal cost. Referred customers convert better than those acquired through other channels and have a significantly higher lifetime value than other customers. On average, referred customers are at least 25 percent more valuable to a brand than customers acquired via alternative methods.
Creating a customer referral program is an organized, strategic process in which customers are rewarded for recommending your brand to others. When customers advocate for you, it strengthens your relationship with them, and a referral program gives them the incentive to advocate for you over and over.
Getting People to Refer Your Brand
How do you get customers to actually refer their friends? Various elements must be kept in mind, including:
Giving people a reason to advocate for your brand
Choosing the right incentives
Marketing the program
Referral messaging and engagement
Keeping these in mind, how do you then build a great referral program?
Exceed Expectations
To develop one of the best customer referral programs, of course you'll need to start with offering an exceptional product or service. If you don't continually strive to deliver customer satisfaction and exceed expectations, customers won't feel excited to refer you to their friends. Remain committed to exceeding expectations and over-delivering with top-quality products and customer service.
Align Your Referral Program with Customers
Your referral program has to be customized to fit your brand and customers' needs. Take the time to get to know what your customers want and need, which includes their pain points (i.e. what keeps them up at night).
A referral program should be geared to what would be appealing to the brand's target audience. What would your customers most enjoy? A coupon or gift card for a free product or service? A discount based on percentage? A cash reward? You could give them an option, or even take a poll prior to launching a referral program.
Ease of Use
Referring friends and family to your company has to be easy. Making a referral should not require any time or effort to figure out. If it's complicated or time-consuming, even the most loyal customer will skip it. That is, unless you have a significant rewards program.
Here's an idea: email a prefilled coupon that a customer can simply forward to a friend to receive a discount. The easier it is for a customer and his/her referral, the more likely they will be willing to participate. The experience should be simple and seamless in person, on a desktop, or on a mobile device.
Clearly Define Your Incentives
There are a variety of possible incentives to include in your referral program. You can entice existing customers to participate in a referral program by offering cash rewards, discounts, gift cards, store credits or experiences.
Which type of incentive you choose will depend on your target audience. Consider what would meet the needs of your customers and potential customers. The promotion should be as interesting as possible. Provide tiered rewards and make rewards stackable.
Update and Change as Needed
Test, analyze and gauge response. If your referral program isn't delivering the results you were hoping for, update and make changes as needed. Also, making changes seasonally can keep people interested.
Customers often respond to external incentives such as a gift card to Amazon. Consider working with a non-competing partner brand to stimulate interest.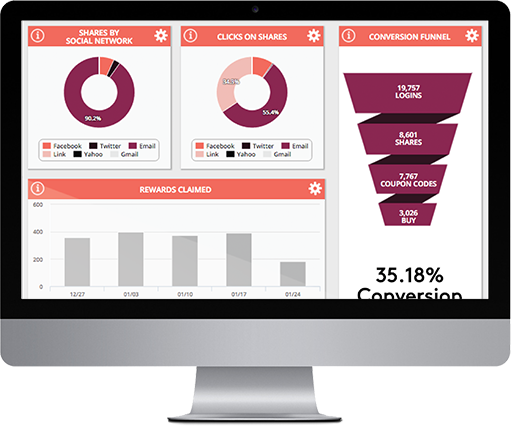 Promote Your Program via Email Marketing
Email marketing is one of the best ways to target loyal customers who frequently open emails looking for a discount, coupon, or deal. Marketing specifically geared to customer referral programs should be sent weekly or every other week.
Remember to use marketing banners on order confirmation emails for your referral program. Customers often feel excited after a purchase and want to share the deal they just got with others at that time.
Social Media Marketing
The best online referral programs take advantage of social media. Consumers spend a great deal of their free time online, especially browsing social media networks. Don't miss the opportunity to promote your brand's referral program on Facebook and Twitter where customers can share your offer.
Further, social media is a great platform for being able to tell who your top engagers, buyers, and influencers are. The dashboard for your customer referral program will allow you to see conversion rates, spending patterns, purchase history, and the lifetime value of customers.
This valuable information will help you make changes and improvements to your program as needed. When customers love your brand and are willing to spread the word, they should be rewarded because advocates are one of the top assets of your business. Make it easy. Make it valuable. Make it fun. That way, everyone involved—the brand, the customer, and the referral—will feel rewarded.