If you're brainstorming ways to encourage customer loyalty, consider the many potential benefits of using gift cards. These cards are a welcome addition to any retail or e-commerce loyalty program and offer the flexibility to get creative.
What is a Gift Card Incentive Program? 
A gift card incentive program is one of the best marketing tools for engaging and acquiring new customers, creating a good relationship with them, increasing brand awareness, and boosting sales. Adding gift cards to your marketing mix encourages your customers to keep coming back to your brand.
Customers with gift cards spend more than those with cash to spend.
A gift card incentive program allows you to sell gift cards online or at your store, ensuring purchases of your products or services. Depending on your business and preference, you can then allow your customers to redeem your gift cards either online or in-store or both.
Gift cards are a popular marketing tool for business and comprise two types of incentive programs:
Open-loop gift card – Customers can use this card anywhere and it is available for sale in places like grocery or department stores. American Express and Visa gift cards are popular examples.
Closed-loop gift card –  These can be used at an only a specific store, such as buying a gift card for J. Crew or Bass Pro Shop.
Although both of these cards can benefit retailers of various kinds, including restaurants, closed-loop cards benefit small businesses more. Since the card must then be used for that business, it brings customers in, potentially multiple times. It can also be an introduction to the business for a new customer who received the card.
Read on to discover what makes loyalty program gift cards one of the best ways to please your target audience and keep them coming back for more.
Provide Purchasing Versatility
When implementing gift cards as part of a new customer loyalty campaign, you are inherently providing customers with purchasing versatility. Customers have the option to choose the item they want rather than receiving a reward chosen by the brand. Also, they decide whether to use their cards at once or save some of the funds toward future purchases. In fact, research indicates consumers often make larger purchases when using gift cards, apparently prompting customers to buy more than they may have otherwise.
Offer Incentives To Family & Friends
Gift certificates and cards are popular presents for family and friends, especially since it's tough to know what others would really like as a present. Cards are subsequently a fantastic way to spread word of your brand and loyalty program. Family and friends will likely become loyal customers as well, perhaps even joining your program, thus bringing more consumers into your fold.
Because gift cards can function as "rewards" for brand loyalty, they usually feature higher conversion rates than plain old coupons. They look like credit cards and offer a wonderful spending incentive: "free" money. Who doesn't tend to spend more when they have free money at their disposal?
Encourage Brand Investment
The flexibility your gift card program provides encourages customers' investment in your brand. Customers are more likely to keep purchasing your products because they have already racked up so many loyalty points or have already earned X number of rewards. Many customers are more likely to stay with a brand with which they have accumulated points rather than "start fresh" with a competitor.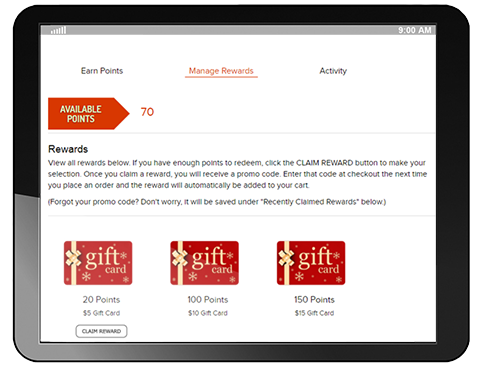 Creates Opportunities To Reach Out
Whether you send emails reminding your customers they have gift card money to spend, offer special discount codes in exchange for using their cards on a particular day, or provide any other incentive, cards provide a great excuse to re-engage with customers. These special reminders and discounts are rarely viewed as intrusive because your customers have money to burn and perhaps extra savings to enjoy. Such emails are often welcomed instead of instantly sent to the virtual trash bin.
Cross-Channel Functionality
Gift card redemption widgets can be integrated into your point of sale system or website, allowing customers to pay with their gift card during checkout—regardless of where or how they buy—or add a gift card balance to their account to use for a future purchase. Providing online, in-store, and app shopping options makes it easier for customers to convert, and cross-channel gift card redemption and management will encourage them to continue coming back for more.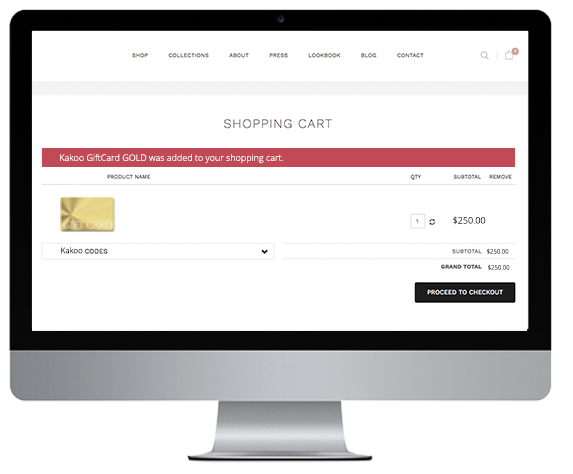 What to Do for a Successful Gift Card Incentive Program? 
Obtain Gift Cards 
To begin, you should contact a reputable vendor who provides customized services, including designing the perfect gift cards for your business. Before finalizing any card, ensure it complements your strategy. You can also opt for e-gift cards to avoid running out of physical cards. E-cards are also equally convenient for your customers as they can easily redeem them.
Based on statistics from Investopedia,  the demand for e-gift cards is increasing by 200% every year.
Set a Proper Goal
You should have a proper goal in your mind for your gift card strategy. Setting goals is important to track the success and challenges you face in your gift card incentive program. It will help you figure out what is working out and what needs to be improved. Tracking key performance indicators will show you, for instance, when gift cards are sold the most, such as around winter holidays, or in what amount they are most popular.
Promote your Gift Card 
Awareness is an important step in the buyer's journey.. Promote your gift card on varied platforms, including social media, to increase brand awareness; however, advertising campaigns should be tracked to ensure they are successful and money isn't needlessly being thrown at the wall. You can also send emails to customers who have signed up to let them know about your gift cards and any other promotional offers.
Discounts 
Discounts and offers, no doubt, encourage customers to spend more and also help to retain them. To boost sales, you can offer gift cards to your customers during the holiday season.
Your gift card may include some further value, such as receiving an additional gift card for use at a later time if they spend over a certain amount on this purchase, such as $100. According to the International Dermal Institute, 72% of the customers spend more than the gift card's face value.  Consider this offer as a future investment since these customers will come back to your store to spend the extra gift card or discount ticket on another product or service.
Designing your loyalty program takes careful consideration, and incorporating gift cards into the program can increase sales and revenue across a wide range of demographics. Loyalty solutions like Annex Cloud's offer built-in balance management, helpful purchasing widgets installable on dedicated product and checkout pages, convenient redemption widgets, and payment management and fraud prevention.
Loyalty programs are proven ways to increase brand awareness and promote company growth. They provide consumers with incentives to buy from you instead of the competition and subsequently boost your reputation as a truly valuable and trustworthy brand.
In today's world of instant review access via social media and related sites, of shopping anywhere from any location, and of serious brand competition, it is more important than ever to give your customers a reason to choose your company. Great products and services are wonderful incentives, but they are no longer enough. Give your target audience more than one reason to select your brand and stay with it. Building an enticing loyalty program is a winning way to do just that, and gift cards are a fantastic incentive for your customers to remain actively engaged in your program.