Many companies fail to realize the full importance of customer loyalty in marketing. Modern business practices have a tendency to focus on marketing towards new consumers: a research survey showed that 72% of small businesses planned to allocate most of their marketing budgets to new customer acquisition. However, fostering existing customer relationships is just as important as—if not more so than—new customer acquisition. In addition, building loyalty among existing customers is actually more profitable and cheaper than acquiring new clients.
How to Build and Maintain Customer Loyalty?
Customer loyalty is the result of consumers' willingness to do repeat business with a brand or a company they have a terrific experience with and have complete satisfaction. It is the positive relationship between a customer and a business, which drives repeat purchases and your customers choose your company over competitors.  A customer who always visits the same book shop whenever he goes to a mall is the perfect example of customer loyalty.
Customer loyalty increases owing to multiple positive interactions that build trust over time.
The main goal of maintaining customer loyalty is to turn your customer into a brand advocate. Incorporating loyalty in marketing is important for a business' long-term success. All businesses should endeavor to enhance customer loyalty in marketing to keep customers' purchases and promote their brand to new audiences. You can follow the given suggestions to maintain a loyal customer base.
Loyalty Rewards Program
A reward program helps attract new customers and encourages them to do business with your company. Businesses include future discounts or even free items in their loyalty programs.
Incomparable Customer Service
Customers turn to a company when its products or solutions meet their needs. Customers' loyalty is also based on businesses' availability to attend to their questions and problems. When you set a customer service mail address or a live chat, it improves your customer experience as they get a response to their inquiries within a stipulated time.
Hire Sincere Employees
Your company is an extension of yourself, and so are your employees.  Attending to your customers' needs should be your employees' priority, which in turn helps businesses build customer loyalty. This is the reason you should hire well-trained employees for your company.
What are the types of Loyalty Programs in Marketing?
Rewarding customers through a loyalty program has become crucial for developing and maintaining good relationships with consumers. Nearly 80% of customers turn to a business that has a reward program in place. Here is the list of the various loyalty programs in marketing; you can choose the best scheme that suits your business needs and customers.
Point Program
Customers earn points for each transaction in the point program. The more they spend, the higher points they get. Depending on the volume of purchase, customers receive a certain amount of points that they can use to get a discount on their future purchases. This point program works best for high-frequency purchases.
The point program is excellent at garnering more signups and has a low risk.
Tiered Loyalty Program
Tiered loyalty programs offer rewards to customers depending on the        milestones they achieve. The more a customer spends, the higher is the tier status. With each tier, customers get better benefits. 50% of people spend more or change other purchasing behavior to obtain higher tier status. Progress bar, gamification and milestones keep customers engaged to earn points.
The members of high-tier programs are less likely to cancel membership and encourage customers to spend more to obtain high status.
Paid Loyalty Programs
Members are required to pay on the spot to receive an instant benefit that they can use anytime. Customers need to pay a monthly or annual fee to join the VIP member club to get access to special discounts, services or unique opportunities. Retailers get more engagement with their customers and higher-order frequency through paid loyalty programs.
This program helps businesses attract their best customers and enable them to collect huge data on high-value customers.
Customer Loyalty And Marketing Go Together
Marketing strategies are usually built to attract new customers. They focus on expanding the customer base which would swell the volumes on the spreadsheet. The growth of customer's heads does not necessarily equal business growth. There are many other factors to calculate. Does the growth of volume increase your revenue significantly? Or is it just a futile exercise to acquire new customers? Is there another way to grow a business without putting all the eggs in just one basket of customer acquisition? An independent study says that improving your retention rate just by 5% can increase your profit margins by up to 90%. The importance of customer loyalty in marketing cannot be taken just like an afterthought, because it is an important factor to consider while designing marketing strategies for business growth.
Research also shows that obtaining new customers can cost up to five times more than working within your existing consumer base. Meanwhile, 40% of an e-commerce store's revenue is created by only 8% of its customers. While it is important to maintain an acquisition rate of new consumers, most companies should also be working to keep the loyalty of their existing customers.
The more times a customer visits your store, the more likely he or she is to return and spend. 66% of customers that are loyal to brands spend more with them. The general trend makes sense. Your existing customers have already had the chance to experience and fall in love with your product. Humans, in general, are creatures of habit and will generally return to their favorite products or services unless they are disillusioned by a poor experience or find a much better deal elsewhere.
Repeat Customers Help with Product Expansion
The USP of repeat customers revolves around the fact that they have developed trust in your company. These consumers have already demonstrated that they are receptive to your marketing communication and are satisfied with the quality of your products. Meanwhile, attracting new customers is a challenge with even the strongest marketing campaign simply because the modern consumer population has lost trust in traditional advertising. A McCann survey found that nearly half of the U.S. population does not trust brands. And while cross-selling is necessary for growth, balancing resources between consumer acquisition and consumer retention can help significantly increase profits.
Moreover, it's easy to tap your repeat customers for cross-selling. In general, they are more open to your communication and thus respond well to it. As it assures higher open rates, you can send them a newsletter of your new products. You can extract even better results if you could get them to sign up for an exclusive list where they can be the first to find out about new products from your business. And, considering that a repeat customer has a 60% to 70% chance of converting, cross-selling with repeat customers definitely creates healthy revenue.
Repeat Customers Are Heavy Spenders for Special Events
Special events and holidays, like Christmas or Valentine's Day, are akin to a gold mine for businesses. Businesses can make 40% of their annual revenue during the holiday season. However, the key to tapping into the holiday market is through consumers that already repeat customers.
Adobe suggests that the average shopper spends 17% more per transaction during the holiday rush, but repeat customers spend 25% more per transaction during the busy season. Logically, this makes sense, as most consumers want reliable products as gifts for themselves or loved ones. A consumer that tries a new product or brand as a gift takes the risk of not only being disillusioned but also embarrassed in front of the gift's recipient.
In addition to bringing in more sales during the holiday season, Adobe's data demonstrated that the percentage of revenue from repeat customers increased even in bad times such as recession and economic slowdown. The findings of this study are more than potent to highlight the reliability and loyalty of repeat customers.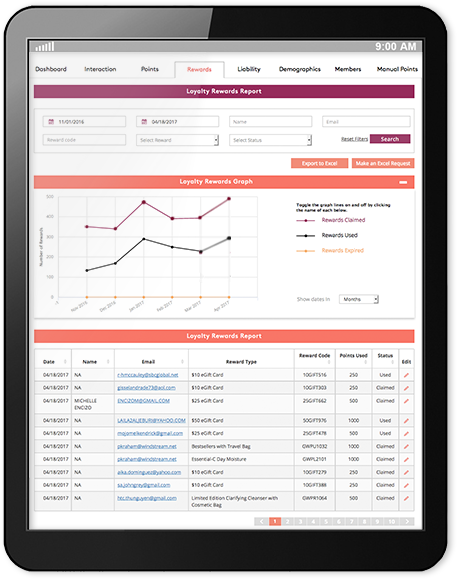 Repeat Customers Are More Vocal About Your Brand
In addition to spending money with your company, loyal consumers are also likely to support your brand. 55% of loyal consumers said that they will recommend a brand to a friend or family member while 12% say that they will defend or endorse a brand on social media.
With brands in general losing consumer trust, your loyal customers can be your best advocates—and the best way to gain consumer trust. As many as 92% of consumers trust referrals from people they know. In this way, loyalty marketing lends itself easily to referral marketing strategies. The two strategies, when well combined, will actually help streamline both loyalty retention and customer acquisition.
Key Takeaways
Loyal customers are valuable, and most brands should spend more time fostering existing company-consumer relationships.
Repeat customers fuel up your revenue funnel by spending more on average and will comprise a major portion of your revenue for special events spending.
The importance of customer loyalty in marketing should not be undervalued.
Fortunately, companies such as Annex Cloud offer a variety of great loyalty marketing solutions. Contact us today to learn more!