Referral marketing is one of the most effective ways to earn more business among today's consumers. The ROI of more traditional marketing is decreasing, as roughly half of modern consumers report that they do not trust advertising. Hence, companies are increasingly looking to referral marketing as a means of growing their consumer base.
Referral marketing can allow help turn your loyal customers into your most powerful advocates. However, before customers can promote your company to their friends, you must first be successful in promoting your referral marketing program. Here are a few ways to do so.
Customer Advocacy Software in Action – Let's take a deeper dive into customer advocacy strategies, how you can leverage them, and how you can track your customer behaviors to make Earned Growth Rate your top KPI. Submit the below form:
How to build an advocacy growth engine
The Need for NPS 3.0

Customer Capitalism—the Way of the Future

Customer Earned Growth Rate

Customer Capitalism Is Far from Mainstream

Loyalty Enables Customer Capitalism
8 Referral Marketing Strategies
Send Dedicated, Targeted Emails
Email has been around for ages, but despite the rise of other forms of communication, it is still a highly effective mode of communication. With a projected over 3.8 billion users worldwide and an estimated 4.2 billion future users by 2022, email remains one of the most effective ways to reach consumers.
An interesting, well-timed email to your customers is one of the most effective ways to promote your referral program. This post goes into more details about how you can optimize your referral emails.
Flaunt Your Program
Customers are more likely to give up if they are forced to search your website for the referral program. To make the information easy to find, it is important that you have a strong call to action on your homepage or site header.
To maximize interest, you can include a brief description of your referral program, with a link to details on your homepage or site header as well and links to a secondary page. This enables interested users to learn more about the program without being too overbearing.
Create a Dedicated Page for Your Referral Program
Your referral program should have a dedicated, aesthetically-pleasing landing page. The page should contain sign up information as well as an explanation of terms, benefits, and user instructions. Ease of use is one of the key referral marketing strategies, so it is important to keep your instructions and rules as simple and intuitive as possible.
Make the Most of Social Media
While email is still the prime mode of company-client communication, it is impossible to ignore the rise of various social media platforms like Facebook and Instagram. A social media presence that extends, at least, to the most popular platforms is a vital aspect of remaining competitive in the modern,youth-driven consumer market.
If you are new to social media, building your following should be a long-term goal. Meanwhile, strong referral marketing platforms allow your customers to advocate for your company by sharing your information on their own social media page.
If you already have a large social media audience on one or more platforms, you should absolutely be advertising your referral program. Because social media is largely visual, you want to feature your CTA alongside a strong visual image or infographic while keeping descriptions concise.
Utilize Your Blog
If your business has a strong blog with a large following, your call to action should certainly appear in your blog posts. This is another place that a CTA button can be particularly useful, as this will minimize "irrelevant content" while still giving you the chance to advertise your referral program.
If your blog is new or underdeveloped, it can still be a great place to experiment with your call to action. You may even consider dedicating a post to the benefits of your company's referral process.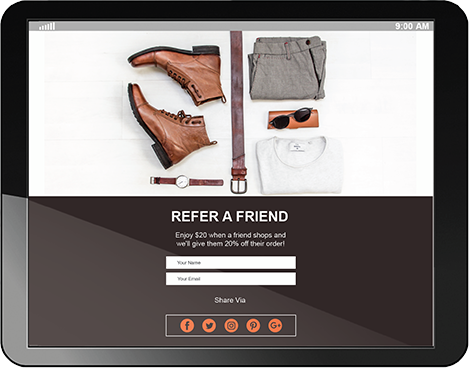 Play Up Your Rewards
Although once in a while a highly satisfied customer may recommend your business to a friend simply upon your request, consumers are much more likely to refer your company if they are promised rewards.
Among the most popular referral marketing strategies is combining referrals with an existing customer loyalty program. Combining referrals with rewards allows your customers to earn points for spending money, as well as for referring friends or even promoting your company on social media.
The best loyalty marketing platforms offer omnichannel capability, which seamlessly combines the rewards points for referrals and purchases.
If you do not currently have a loyalty program, you can still offer referral rewards such as one-time discounts or free shipping to show your customers that their time and effort is appreciated.
Keep in mind, however, that modern consumers are actively seeking out loyalty programs, and adding a loyalty-referral hybrid as opposed to a program focused on referral rewards alone is in your best interest.
Target the User Account Page
Your most loyal and most satisfied customers will likely have a user account page on your website. This makes the "My Account" pages ideal for promoting your referral marketing program. Experiment with placement, design, and copy, and personalize your CTAs wherever possible.
Be Mobile-Friendly
Make sure that the components of your referral program are compatible with mobile devices. The average adult spends 11 hours a day with digital media, with a good chunk of that time spent on some form of mobile device.
Since mobile devices have become a major point of connection, and you want your customers to be able to refer their friends to your brand whenever and wherever, there is no reason not to ensure that users can refer and gain rewards while on their smartphone or tablet.