Many consumers that are satisfied with your product are often willing to recommend your company to family and friends. In fact, the recommendation of your consumers will likely be sought by their friends before purchasing your product. Recent market surveys indicate that 7 out of 10 Americans seek opinions from their peers before making a purchase. Meanwhile, according to a Harris Poll, 67% of consumers say they're more likely to purchase a product after a friend or family member shared it via social media or email.
Referral marketing capitalizes on consumer satisfaction by encouraging your loyal customers to recommend your product to friends through a rewards incentive. The rewards can be a discount, free shipping, a gift, or even points toward an existing loyalty marketing program. In most cases, the potential reward is a great way to make a consumer more vocal about your brand.
However, before a consumer can partake in your referral campaign, he or she must be aware of the effort. This is where a strong referral email can be one of your most powerful referral marketing strategies. A well-worded, well-timed referral email can turn a satisfied customer into an active advocate for your brand or product. Here are a few basic components of a strong referral email.
A Great Subject Line
The number of emails people receive has significantly increased in the recent decade. In 2015, the number of emails sent and received per day was over 205 billion. This figure is expected to grow at an average annual rate of 3% over the next four years, reaching over 246 billion by the end of 2019. This leaves companies with the challenge of reaching individuals that are already busy trying to ignore emailed advertisements.
To avoid clutter, many individuals will quickly glance at the subject line and sender before deleting an email. Because most individuals often look at the subject first, rather than the potential information, the subject line has become important in catching the reader's attention.
While the subject line should be entertaining, it is important to be clear rather than obscure; the average consumer is sorting through at least thirty emails a day, and if they aren't sure whether something is relevant, they will most likely discard it. A case study conducted by AWeber Communications found that a clear subject line gets 541% more clicks than one that's clever. Ideally, a good subject line will balance clarity with a creative element to help ensure the consumers' attention.
Imagery
The internet is an audiovisual medium. Even a few years ago, images were avoided because they had a tendency to create download lag. Now, however, improvements in internet speed and mobile device technology have also allowed for images to be downloaded as quickly and efficiently. While both images and text will take the same amount of time to download, humans will process images much faster than written copy.
Aiming for an evocative image or diagram that allows you to clearly display the gist of the referral program will allow you to quickly connect with the consumer and prompt him or her to seek further information in the copy.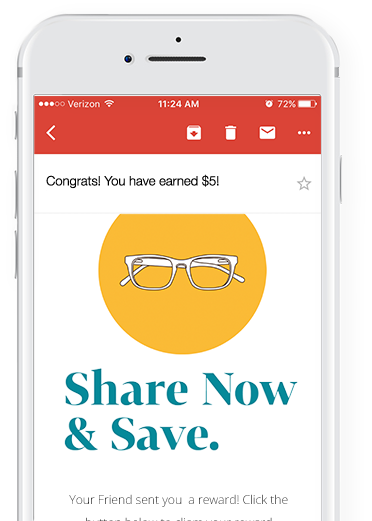 Eye-Grabbing Copy
The written copy of your email is a tool through which you speak to your customers. Good copy will display the personality of your brand while also clearly vocalizing the benefits or your referral program.
While your copy should balance between brief and comprehensive, a Litmus study showed that the average email attention span increased by 7% between 2011 and 2016. However, the average person will still spend only 11.1 seconds reading your email. Your copy should also be well edited to avoid errors. Errors such as poor grammar or misspelling will discourage customers from interacting with your brand.
Powerful Call to Action
A powerful call to action is the heart of your recruitment email. Your CTA should tell the customer how they can help your brand and entice them with rewards. Keep your CTA short and to the point while elaborating more in your copy. You should also link your CTA back to your website where you can provide more information on the referral process and thank your loyal customers for taking the time to talk about your brand.
Product Sharing
The ultimate goal of referral emails is to enhance the sale of your product. Thus, it's not at all a bad idea to share new or soon to be released products as a component of a referral program. Offering your customer something new even as you are asking them for a recommendation may prompt that customer to return to your site or to search for the new product.
While crafting an effective, creative and powerful referral email is challenging, it is also one of the most beneficial referral marketing strategies.