In an age where consumers are often unwilling to trust traditional advertising, referrals have become the cornerstone of marketing strategy. Companies that set up referral programs report higher conversion rates because customers who are referred by a friend often become loyal customers themselves. However, most brand and retail referral programs are still not utilizing their referral campaigns and referral marketing programs to their full potential. While it is easy to set up a simple referral program and just enjoy the results, companies can do more by utilizing referral marketing strategies to not only increase conversion but to also address common problems that retailers often face with their customers. Once a customer develops trust in your brand and is willing to refer, they are often also willing to advocate specific products to their friends—especially if they are rewarded.
By following referral marketing best practices, companies can both bolster their referral program and use referrals to address common customer pain points.
Tackling Returns
A returned product, either in-store or online, is always a hassle for your customers and for your company. In some cases, a return that is improperly handled by your sales team can also lead to a negative customer experience, which will not only cost your company a potential buyer but also lead to poor reviews. Here, referral marketing can help by decreasing return rates and giving your customers more certainty in their purchase. After all, who better to ask for advice on purchases than a trusted friend or family member? Incorporating referrals and friend recommendations will help your customers be more certain of their purchases which, in turn, will result in decreased returns and happier first-time customers who have a greater likelihood of becoming long-term shoppers.
Increase Discovery
Just as referred recommendations can decrease returns, they can increase product discovery. Everyone loves sharing a good purchase with their friends, and many will recommend a product simply because they think their friends will enjoy it. However, you can boost the likelihood of a product recommendation specifically by offering a small reward for the recommender. Moreover, your referred product shares are one of your most targeted forms of advertising because your customers have a personal relationship with their friends and are more likely to recommend the appropriate product to fit their friend's needs than even the most advanced algorithms.
Give Good Information with Referrals
45% of U.S. consumers will abandon an online purchase simply because they cannot find a quick answer to a product-related question. This problem can easily be solved by attaching a detailed product description—with a referral link, of course—to the product referral email template. The goal of your template is to give all the information that your customer needs about a product without them having to search your website for details. While providing excessive information is discouraged in general advertising, this is an exception because here, the customer receives a specifically recommended product from a friend rather than a general advertisement. By adding a friend referral to the equation, you have the ability to provide more information to your consumers and help avoid cart abandonment. Moreover, by providing information on hand, you increase convenience for your potential customer, thus improving their customer experience, which, in turn, will increase your sales.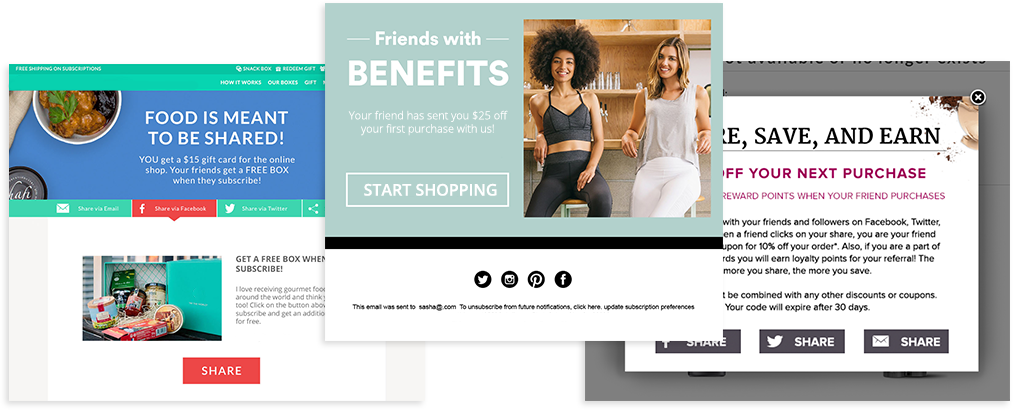 Optimize Customer Experience
Modern business professionals define customer experience to include all the interactions that a customer may have with a company's products, people, and processes. With more choices than ever before and the convenience of the internet, customers have made the shopping experience a priority. In fact, 67% of customers leave companies due to a bad experience.
While referral programs should never be associated with poor customer service, you can optimize your referral strategy to provide new customers with an exceptional shopping experience that earns you new loyal customers. This can be done by customizing rewards and adding experiential rewards to the mix. You can provide intimate rewards by asking your customer to complete a profile, or reward based on their friend's recommendation. After all, it stands to reason that if a friend referred them to a product, then they would like a similar product. Meanwhile, personalization is becoming a priority, with 54% of Generation K, 52% of Millennials, 48% of Generation X and 40% of Baby Boomers agreeing that personalization makes them more loyal to a brand.
While traditional methods of personalization such as calling customers by first names or sending a birthday gift are still important, you can add even more layers of personalization. For instance, personalized dashboards can display or feature a photo which allows customers to be in the spotlight, and A.I. can help target customers based on their interests and behavior.
By following just a few referral marketing best practices, you can tackle customer pain points and create stronger ties between your brand and your consumer base.