More and more companies today are appreciating the value of customer loyalty programs. Unfortunately, in the modern marketplace, simply having a program that rewards for purchases is not enough. Instead, an effective loyalty program should be capable of being personalized to fit consumer needs and wants. Over 50% of U.S. consumers enjoy receiving personalized communications from retailers, with the younger demographic being even more favorable towards personalization. Having established that personalization is important, here are a few tips for personalizing your customer loyalty program.
Create Dashboards
Creating a personalized, omni-compatible dashboard for each of your customers is easier than it sounds with the right platform. This allows a customer to see their past purchases, loyalty points, and potential rewards. By creating a dashboard or personal homepage, you are essentially creating something that is individually tailored to the customer. You can further customize each dashboard by adding name displays for each individual customer, allowing them to choose their own background, and adding birthday messages during their birth month.
To make your dashboard even more effective, consider adding relevant advertisements based on consumer past purchases. For instance, if a consumer has purchased a product in the past, you can suggest a similar product that they may like.
Personalize Emails
Despite the popularity of social media, email remains one of the most used forms of communication. In fact, email is projected to rise to 3.8 billion users in 2018. However, the average person deals with a dozen or more emails on a daily basis, and many of these are promotional.  Fortunately, there are several ways to personalize loyalty emails in order to make your company stand out.
The most basic aspect of email personalization is the address. An email to "Dear Mrs. Smith" is much more likely to get a response than an email addressed "dear loyalty member." Including a signature in email can also give a nice touch and allow your customers to feel as though they are communicating with a person rather than a mechanical email server. You can also personalize the subject line of your email by including the recipient's name, as well as your company name.
Use your loyalty program data to go a step further, however, and deliver emails featuring products or categories each customer has shown interest in previously, or use predictive analytics to determine which marketing messages are most likely to encourage them to purchase.
Give Relevant Suggestions
Whether you are sending emails or placing suggestions on a dashboard, make sure that the suggestions are relevant to that customer.
If your company sells products that need replacement on a regular basis, such as skin care products or makeup, consider setting an algorithm that suggests a replacement for a product if it is due to run out. For instance, if you know that your skin care cream will last for two months, send your customer a reminder email, or include a reminder on their dashboard after six weeks. This allows the customer to re-order without running out while also making them feel like your company is helping.
On the other hand, if you sell a product that is not due to run out, consider suggesting a similar product. For instance, a customer who just bought a refrigerator is unlikely to need a second refrigerator. However, they may need another kitchen appliance or an accessory that is compatible with the refrigerator that they just purchased.
Gather Demographics
If you have a loyalty program, you are already in possession of valuable data about your customers. This data can help you send general messages to a relevant demographic. For example, if your consumer base includes high school aged individuals, you can send a special promotional offer in honor of prom or graduation. This will allow you to target a larger demographic with a message that will be personally relevant.
Keep in mind, however, that not all demographic information should be gathered at once and certainly not before checkout. In fact, 28% of shopping carts are abandoned due to a complicated checkout process. To gather the maximum amount of information without risking sales, keep checkout simple by asking customers to only provide an email in order to sign up for your loyalty rewards program. Later, you can entice them into completing their loyalty profile by offering rewards or incentives for doing so.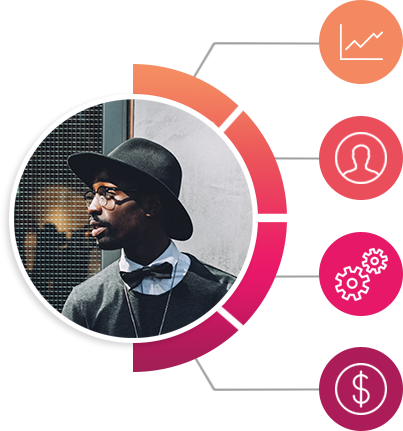 Restructure Gifts and Rewards
Everyone loves presents, and your customers are no exception. While traditional loyalty programs are limited to points for purchase, you can add a level of personalization to your customer's experience by offering points for social actions, uploaded images, and even answered questions. Offering a multitude of options for earning points allows the customers to interact with your brand on their terms.
You should also ensure that you are providing your customers with gifts that are relevant. To confirm that you are providing relevant rewards, you can either follow market research to find out what consumers favor or simply give consumers several choices.
While creating a good loyalty program is difficult, it is certainly worth the effort. After all, loyalty members are more likely to spend more and make more frequent purchases than other consumers. Annex Cloud's Customer Loyalty Cloud offers a multitude of personalization options that will make your program stand apart from the crowd.