Email remains the preferred method of communication for most businesses. However, the average person deals with hundreds of emails per day, with many of them being advertisements or requests. Many emails are deleted immediately, which is why your online referral program's email strategy needs to stand out. When you need a boost to your acquisition numbers, a lifecycle approach can be among your most helpful referral marketing tools.
Modern technology has created the need for new communication tactics. Today's consumers use multiple touch points to interact with businesses. This allows marketers to group potential consumers as a prospect, lead or customer, and tailor their presentation to each specific group. For instance, a prospective lead would be offered points for joining a loyalty rewards program, while an existing customer would be offered other promotions. This sort of targeted advertisement allows consumers to feel like their own experience is more personalized while also avoiding wasteful and irrelevant emails that may adversely affect consumer opinion of your brand. Here are a few ways to implement lifecycle emails into your online referral program.
Promotion Is Key!
In today's busy world, visibility is key to potentially catching a customer's attention. Sending an occasional email about your referral program is not enough. Your referral program should be advertised on your website, customer dashboards and even in unrelated emails. It doesn't need to take over the page, but it should be eye-catching and lead to a page with further information. When you do send emails, you should ensure that your emails have a catchy subject line that can notify your consumers quickly about the nature of the email. A creative line may catch someone's eye, but if it is unclear, it will end up in the trash. Another thing to remember is that your referral program info should be sharable. After all, 77% of consumers are more likely to purchase a new product based on recommendations from friends or family, and the same logic applies for joining a loyalty program or giving online referrals.
Keep in mind that you don't have to limit referrals to email. In fact, the best referral programs offer consumers a variety of ways to refer friends such as text messaging, links, and social media sharing. Encouraging your consumers to share a link on social media is particularly helpful because this allows the link to be seen by more eyes than a person-to-person referral.
Keep Referred Friends in the Loop
This is a fairly simple step that can help grow your consumer base. Once a customer has referred a potential lead, make sure you notify that lead of their friend's referral. Seeing that this was a friend's recommendation will immediately build trust for your company in this new consumer's mind. Not only will this new lead feel better about checking out your products, but they may also feel the need to eventually pay it forward and refer others once they've decided that they like your brand.
Encourage Advocates
Customers who are referred by a friend come to you with a positive impression. After all, their friend shopped with you and liked the experience; otherwise, they would not have referred your product. Because they already have a good impression of your company, referred customers are also primed to be future advocates. Once a referred customer shops with your brand, you can begin the process of introducing that customer to the rewards and perks that are available to advocates. Throwing in a gift just for joining or adding a few "surprise and delight" points can help even new consumers be more open to advocacy.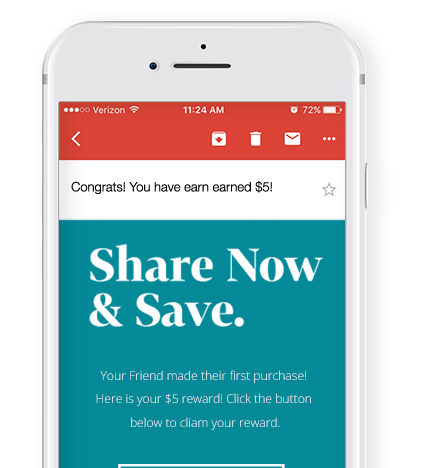 You can make the process even more fun and dynamic by structuring a gamified rewards program that includes referrals, social actions, and user-generated content. Creating point tiers and adding a progress bar to the customer's dashboard will make the process more fun and increase the likelihood of consumer engagement. Now, your referred buyer will become a referring customer and is primed for referral emails.
To recap, here are a few key points to remember:
Send regular marketing emails for your referral program.
Advertise your referral program on your website.
Choose a flexible referral platform that will allow your consumers to refer through email, text and online.
Include information about your program in other emails, including order confirmation and shipping/tracking emails.
Create a welcome series to give customers all of the information that they may desire.
Always let referred customers known that they've been referred by a friend.
Referral lifecycle email campaigns are among your most valuable referral marketing tools. With the right platform, sending the right emails to the correct client is easy! Smarter platforms may even make emails more personalized, which will help customers feel unique and prompt an even greater appreciation for your brand.