Almost no business, no matter how diverse and well-rounded, is completely self-sufficient when it comes to marketing tactics. That's why it is common practice for businesses to rely on an outside referral marketing platform. However, investing in an outside source should be done with care. After all, no matter your budget, you want to get the best ROI possible. While today's technology-driven world makes it nearly impossible and unprofitable to forego a referral platform altogether, you do have several options in choosing the right platform for your company. Here are a few things to keep in mind when choosing your referral marketing software.
Integration
One of the most important things that you should be looking for is integration. Your new software should be easily compatible with your existing programs, such as CRMs, POS systems, and ESPs. For instance, if your sales team uses customer relationship management software, it should be easy to add the new software without trouble to you or your team. Combining CRM and referral marketing software will allow you to seamlessly track the progress of a referral through your sales funnel and make it easier to follow up on a customer's status. Strong integration capabilities will also allow you to nurture your loyal customers before and after a referral is submitted.
Lack of compatibility, on the other hand, can hurt not only your current tracking but also your ability to follow up with customers and your sales team's overall productivity.
Scalability
Flexibility is key when it comes to addressing the needs of the modern consumer market. Likewise, your referral marketing software should be flexible enough to take the shape that you need to optimize your client outreach and referral program. You should also be able to control any changes made throughout the program with referral management software. For instance, if an element needs to be added or removed from the program, you need to be fully aware of it and be able to control how that change will affect overall performance. Looking into program scalability will help you in mapping expectations from the software in terms of speed, usability, and features.
White Labeling and APIs
When considering a referral solution, it is also important to consider authenticity. The solution must be white labeled and have the appropriate API capabilities to allow you full usage of the program and the associated rights. You can verify authenticity by doing a quick check on document links. Meanwhile, your API documents should also help interoperability with other systems. The goal is to own the information collected via white-labeled APIs and email addresses.
Working with a platform that is questionable or unclear about white labeling, APIs, and usage rights can quickly land your company into a legal gray zone, which is not ideal—especially if you want to earn consumer trust.
Customization
Customization is another key feature of a good referral platform. The platform should conform to your business goals, offerings, and needs—not the other way around. Before investing in a referral solution, make sure that its offerings can be modified in such a way that is desirable to your business. In particular, make sure that you can customize referral action, notifications, messaging communications, template designs, and rewards.
Segmentation of Contacts
For the proper optimization of your referral program, you will need communication management, workflows, and segmentation based on the needs of your business. Referral management software that allows for sorting and segmentation of contacts is key to remaining organized in your customer lists, while also allowing you to target a specific type of consumer for a specific campaign. For instance, if you want to target your most loyal customers for a new or updated referral marketing campaign that offers more rewards, your referral management software should allow you to reach out to those customers specifically.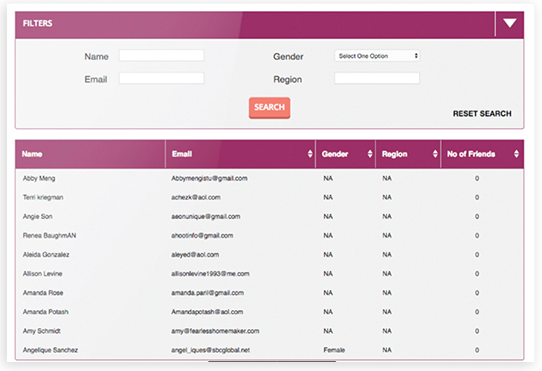 Referral Campaigns Analytics
You cannot manage a solution if you can't measure its performance metrics. Numbers reflect the stronger and weaker aspects of your campaign so that you can make necessary adjustments to areas that lack response. Your solution must give you insights about your top influencers, channels with your highest referral rates, the total number of referral actions taken and referrals sent, and the total revenue generated.
In addition to collecting data, your platform should also allow you to put together and forward a well-organized, detailed report to the individuals that are in charge of referral marketing within your company. Make sure that your referral solution offers customized reporting that can be delivered to your marketing team on a scheduled basis.
Strong Customer Support
Even the best programs can be improved, and a qualified customer success specialist can help ensure you're getting the most out of your referral program. Make sure that your referral solution is backed by a strong customer support team that can answer questions and promptly resolve system problems.
While the research may be cumbersome, finding a strong platform now can help your company grow and save you from potential future problems.