Modern technology coupled with the increasing influence of digital shoppers on the global marketplace has forced companies to get increasingly creative when it comes to advertising to their users. One such marketing innovation includes the commercial use of community generated content across a variety of marketing platforms, including emails.
Community generated content, often referred to as user generated content or UGC, includes a variety of content types including photos, videos, and reviews. One of the most compelling aspects of UGC is that it is readily available: data collected about uploaded images alone shows that people upload approximately 1.8 billion photos daily onto various social media sites such as Facebook and Instagram. In fact, it is estimated that 80% of web content is user generated content. In addition to being available in large quantities, UGC is also better accepted by consumers when compared to traditional ads. In fact, 92% of customer's worldwide trust earned media over any form of advertising.
Given adequate platforms, UGC can be harvested and repurposed for a variety of marketing needs, including emails. Despite the popularity of social media, email remains the primary mode of online communication between brands and consumers and is still the best performing marketing channel in terms of ROI. In addition, its appeal and marketing efficacy, email as a mode of communication between brand and customer, is also appealing to the public. In fact, 77% of consumers prefer receiving an email for marketing communications as opposed to a text or phone call. Meanwhile, 20% of marketers report that email operations are directly linked to their business' primary revenue source.
While a well-constructed email camping is powerful in its own right, it can still benefit from the addition of UGC. There are several ways to effectively utilize UGC in your emails. The goal in every case should be a strong, well-worded email that seamlessly incorporates user generated aspects and draws consumer attention while also inspiring trust and curiosity.
Incorporating Product Reviews
Modern consumers trust peer recommendations and reviews over traditional brand advertising, which is what makes reviews a powerful tool in modern e-commerce platforms. A customer who sees an email with an advertisement that makes claims about a product is less likely to be convinced than a customer who sees reviews or even quotes from reviews featured in the advertisement.
To optimize reviews within the email, you can strategically place quotes from one or more consumer reviews around your main image or your call to action. If you are launching an email campaign to advertise a new product, you can have a direct link to existing product reviews in your email to inspire consumer trust. To avoid lack of consumer feedback, it is also reasonable to offer small rewards to customers who write reviews on purchased products.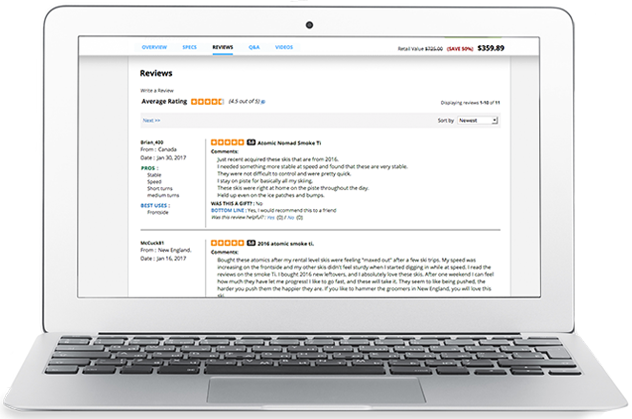 User Generated Images
While quality visual content is key to a successful email campaign, UGC photos are actually more effective at reaching your customers than professionally created brand marketing images. Just as consumers are more likely to trust peer reviews over traditional advertisements, they are also more likely to trust user generated photos over brand-based ad images. In fact, marketing campaigns that utilized consumer generated photos had a 25% increase in conversions compared to companies that used photos shot by brands. Fortunately, companies can easily collect user images as well as the permission to utilize those images through visual commerce. User generated images can then be used as advertisements or even made shoppable by linking the image directly to the product page.
Incorporating user generated photos into your advertising emails can increase authenticity and inspire consumer trust. Customers will feel like they can relate to your brand if you show them real people that are not only fans of your brand but are also using your products. Marketers can also increase interaction and engagement by providing a bit of the story behind the photo. The photo may include the first name of the photographer or participants, a link to the social media page of the user that submitted a photo, or even a teaser for a short story.
For instance, a consumer that receives an advertisement with the photo of a peer, even if this is a peer that they have never met, along with a brief story behind the photo, may be curious enough to click onto the link in order to find out more information.  Enticing your consumer's curiosity can keep them engaged and help ensure that they return to your website.
Whether you are sending a thank you email after a product purchase or launching a new email campaign to advertise an upcoming product, incorporating user generated reviews and photos will help you gain consumer trust, and ultimately, a greater ROI.