We all agree that customer retention is the holy grail for marketers in 2021. Why? Because it plays a critical role in profitability, growth, and brand perception. While every business needs to acquire new customers, once you have them, you must focus your marketing efforts toward retaining as many of them as possible. A customer retention-focused strategy is one of the most effective marketing strategies for your business. If loyal customers become brand ambassadors, they'll refer more and hence CAC (Customer acquisition cost) will be lower if you have a greater number of loyal and satisfied customers.
Brand loyalty is more important than ever and can make a massive impact on your business. Here are important customer retention statistics in 2021 that you must be abreast with:
Customer Retention Statistics:
A 5% increase in Kundenbindung can boost profits by 25% to 95%. (Source:HubSpot)
Almost 65% of a company's business comes from repeat customers. (Source:SmallBizGenius)
82% of companies agree that retention is cheaper than acquisition. (Source:SmallBizGenius)
Companies that provide a great experience have a 16% price premium on products and services. (Source: Emplifi)
Vilfredo Pareto's 80/20 principle states that by studying the top 20% of your customers, you can work out how to attract similar people and increase your future profits.  (Source:Investopedia)
69% of US customers believe that customer service influences their loyalty.  (Source:SmallBizGenius)
81% of customers make purchasing decisions based on how much they trust a brand.  (Source: Forbes)
Happy and satisfied customers are 87% more likely to purchase upgrades and new services.  (Source: Involve.ai)
68% of customers said they see value in shopping with a brand when the Treueprogramm sends them personalized discounts based on their purchase history. (Source:Digiday)
Repeat customer statistics reveal that returning loyal customers spend an average of 33% more per order as compared to others. (Source: MyCustomer)
91% of customers are more likely to purchase from brands that provide them with meaningful and relevant offers.  (Source: Forbes) 
To build a long-term relationship with a new customer costs 16 times more. (Source:Review42)
34% of customers will never buy from a brand if they have had just one bad experience which is also one of the top reasons why companies lose business. (Source:Oracle)
67% of customers agree that their standard of a good experience is higher than ever. (Source: Nextiva)
One in three customers will pay more for a better experience. (Source: Adobe)
80% of customers believe that speed, convenience, knowledgeable help, and friendly service are the most important elements of a positive customer experience. (Source: PwC)
13% of unhappy customers will share their experiences with others. (Source: Help Scout)
The probability of selling to an existing customer is 60-70%, while the probability of selling to a new prospect is only 5% to 20%. (Source: Invesp)
For most industries, the average customer retention rate is below 20%. (Source:SurveySparrow)
75% of consumers say they favor companies that offer rewards. (Source:SmallBizGenius)
33% of customers will leave if the brand lacks personalization. (Source: Nextiva)
Loyal customers don't just spend more, they also refer more which leads to reduced costs. Repeat customer statistics are key to business success and growth. Staying in business with a customer for a long time is far more profitable than onboarding a new customer. According to InMoment, 77% of customers have strong relationships with specific brands for as long as 10 years. Introducing Kundenbindungsprogramme is a great way to drive customer retention. In the long run, companies that offer a meaningful loyalty program also experience improved customer acquisition.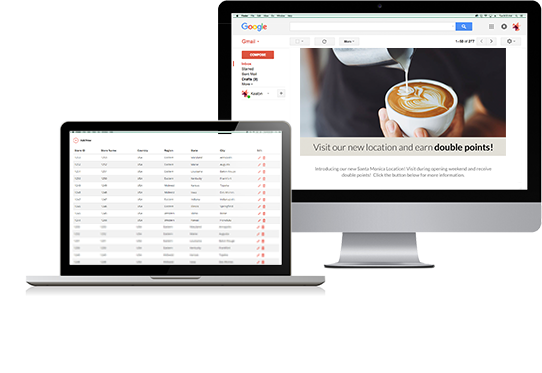 Customer Retention Pays Off
The statistics show the many different ways in which working to retain customers is a good investment.  Repeat customers spend more money and require less costly advertising. How best to appeal to existing customers to keep their loyalty depends a lot on your target demographic, especially the customers' ages.
Annex Cloud can help you build a Kundenbindung strategy that is unique to your company with our highly configurable Kundentreue software.  Whether your customers like discounts or points, games or surprises, we have something for everyone. Kontakt to discuss how to build the perfect Loyalitätsstrategie for your company or chat with Loyalty Expert right now.