Customer retention creates a steady funnel of sustainable growth, whether you sell to regular consumers, small businesses or giant corporations. In fact, attracting new shoppers costs nearly five times more than keeping an existing one.
According to KISSmetrics, the average global cost of a lost customer is $243. You may not hear the dollars running out the door when you lose business, but the data is real. Furthermore, existing customers are at least 50% more likely likely to spend money at your business than a new one.
These statistics go on and on:
Increasing your customer retention rate by 5% increases profit by 25 to 95%
A 2% increase in customer retention has the exact same effect as decreasing costs by 10%
80% of your revenue is being generated by 20% of your current customers
Existing customers spend 67% more than new customers
Retention is essentially synonymous with customer loyalty. It's a coveted ideal, but most marketers have a fundamental misunderstanding of what drives it as well as how you can cultivate it.
The Future of Customer Retention
Now that the value of retaining your customers is established, let's examine innovative ways to achieve that goal. Prediction, analytics and customization are the main tenets of the new paradigm in customer retention. We'll explain those concepts and illustrate some tools to make your efforts more effective.
Loyalty Programs
Customer loyalty solutions encompass online, in-store, and app-based loyalty functions to help you engage clients as well as encourage them to select your brand name wherever they're looking for a product or service.
Using a data-driven loyalty program empowers you to reward your clients throughout the buyer journey—from purchasing to writing reviews, referring friends, linking to your social media channels and far more—to build genuine, lifelong commitment. These systems and programs analyze purchase behavior and therefore improve targeting and results. This is different from something like a punch card loyalty program, which is not data-based and therefore less robust and useful in your overall marketing strategy.
Loyalty programs are considered a cornerstone of today's best practices in customer retention, which we already understand is vitally important to the success of your business.
So, how can you make your loyalty programs and customer incentives more attractive?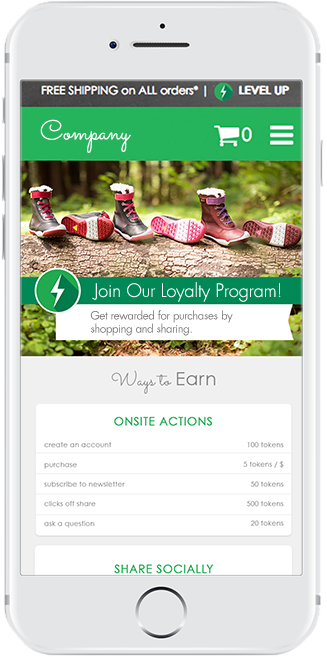 The Value of Artificial Intelligence
Based on a Pegasystems survey on customer engagement, 100% of top performing businesses utilize AI. Additionally, 56% of the best performers are purchasing AI to personalize and constantly learn from client interactions. This is in direct contrast to the 41% of lower performing companies.
When utilized effectively, AI tools like predictive analytics techniques and chatbots allow personnel to do the job faster and also better as well as enhance satisfaction and customer loyalty. AI instruments make it feasible to:
     Anticipate consumer needs
     Enable extreme personalization
     Identify customer purchasing patterns
     Empower targeted actions and offers
     Analyze huge volumes of customer information, like identifying the attributes of high-value past customers
You can leverage this information to not only beef up your customer loyalty programs but also to achieve one of the next major tenants in customer retention: personalization.
Predictive Analytics & Personalization
Predictive analytics is the evaluation of past actions and predictions of future trends. This procedure entails examining past and current customer behaviors in a mathematical framework to identify patterns. The goal is to anticipate and predict future behavior so you can better personalize your campaigns to appeal to customers.
Deeper Insights
Predictive analytics processes data from a CRM to provide businesses with vital information necessary to modify and target future and current campaigns.
Real-Time Advertising Campaigns
Real-time customer recommendations using a predictive analytics platform assist marketers in matching products to customers by importance, frequency, market information and purchasing information. With this information, marketers can target both the tone and content of messages as well as the most successful way to deliver them (email, social media, direct mail, etc.).
Dynamic Pivoting
Evaluating your sales and customer interaction data allows fast course correction when your predictions fall flat. Gathering insights into customer metrics and behavior helps marketers plan future activities and strategies. It becomes easy to reply to customers' actual behavior in near real-time by closely watching out for data on product sales, retention and churn.

Using Blockchain
Blockchain can help businesses streamline their rewards programs and make them more accessible and valuable to customers. A blockchain driven program depends on blockchain's digital ledger, allowing your customers to access all of their reward programs through one platform. The ease of use alone will entice them to shop more so they don't miss out on the incentives you're offering.
Instead of getting your clients waste loyalty points by forgetting about them, for example, blockchain simplifies your ability to partner with other businesses and also make sure your clients use the incentives you provide to them.
In a nutshell, blockchain enables easier reward registration and management while simultaneously incentivizing businesses of all sizes to make lucrative partnerships with others.
Referral Marketing
While often used in conjunction with loyalty programs, referral marketing aims to draw in new clients with an affordable offer by rewarding existing members for encouraging their family and friends to buy from your brand.
Referral programs work better when they trigger a feeling of intrinsic reward for your current customer at the point of referral. Make them feel great about your brand and great about turning their friends on to something they love. Your tangible reward of credit or cash takes the incentive to the next level and encourages repetition.
Innovative Customer Retention Is the New Paradigm
To learn more about how you can innovate your customer retention and referral programs by leveraging the data you collect every day, contact Annex Cloud. We offer a host of technological solutions and market strategy enhancements that take your business into the future of dynamic sales and marketing.