Customer loyalty marketing has become a major part of sales. Given the economic and social climates of the last several decades, the average consumer is now more concerned with discounts, brand perks and brand stories than their senior counterparts.
Studies have demonstrated that the modern consumer will not only seek out rewards but may forego a given brand due to a lack of customer loyalty programs. Furthermore, consumers are more likely to change brands based on the quality of offered rewards.
Facing the difficult task of effective loyalty program development? Here is quick checklist to make sure your customer loyalty making the cut.
Consumer Engagement
A good loyalty program is easy to find and join. The customer should be able to easily locate the information for your program on the website or through company sales professionals. It is always a good idea to have something that can entice new customers to join. This may be an initial discount, a large number of points, or some other benefit that will encourage the average consumer.
Attainable Rewards
It is important to give consumers a goal that is attainable, especially when they are just starting out. A reward system that requires many points for rewards but does not award many points to consumers will not seem like it is a good investment for newcomers. The rewards system should also be simple and easy to understand. Make sure that any consumer that is looking into your loyalty rewards can easily understand the structure of the system as well as the rewards benefits.
Tier Systems
Your loyal customers will stay loyal if they continue to receive rewards and benefits. This is where a tier system can come in handy. The tier system offers rewards for your loyal customers while also providing a game-like element to the earning system. In some cases, encouraging a friendly competition for points and tiers can be a good way of maintaining consumer interest.
Social Engagement
Offering points for social engagement helps encourage consumers to become advocates for your brand. You can offer points for social media actions such as connecting on Facebook or Twitter or commenting on blogs. Depending on the nature of your company, you can also sponsor contests or give away competitions to honor individuals who are most dedicated to promoting your company. Awarding points for social engagement not only makes your system more appealing, but it also allows you to access the influencer marketing niche.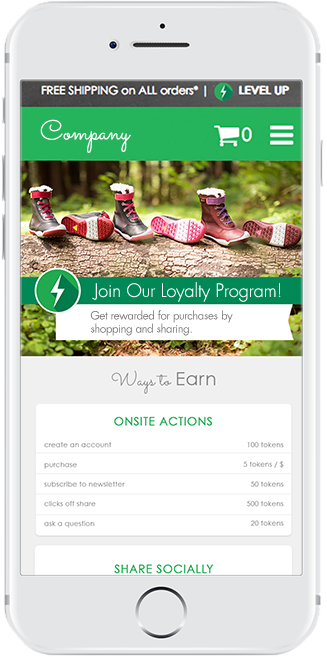 Community Engagement
Many individuals have taken to blogs, YouTube and other online means to express their opinions, promote their favorite products and connect with the global community. Working with influencers and encouraging social engagement are some of the newest ways to market your brand and products. In addition to working with influencers, you may also decide to create communities for your consumers. For instance, if your store focuses on health and fitness, creating something as simple as a Facebook group where customers can interact and support each other's goals can help consumers stay loyal. You can also organize events, or partner with charities to help not only promote your product in a positive light, but also make consumers feel like they are contributing to a larger cause through your product.
Broaden Your Blog
Your blog can serve as an outlet for brand news, upcoming events, and even as advertisement for new rewards offerings. With consumers getting potential points for reading and commenting on your blog, you are already making that publication more relevant. Having a good blog that includes ideas and advice as well as promotions, will help ensure that your customers stay engaged, up to date on news, and eager for more information.
Brand Stories
Many modern consumers are concerned with the story of their brands. Questions about who founded a brand, the brand's origin story and the brand's values are becoming more and more important for the modern shopper. Make sure that your brand story is part of your loyalty marketing scheme. The brand story can also be an inspiration for contests and rewards. For instance, if the founder of your brand was a philanthropist that focused on children with autism, a competition to raise donations in support of autism awareness with reward points for winners is a possible way to keep consumers engaged.
Loyalty program development can be a challenge. Fortunately, Annex Cloud marketing specializes in construction and execution of loyalty programs that are guaranteed to continuously engage your consumers, increase return on investment, and generate more revenue for your business.