Every ecommerce customer knows that product reviews are a critical part of the online shopping experience. Online buyers are a picky bunch: they not only demand the lowest prices and fastest shipping times, they like to immerse themselves in online product reviews and ratings before making a final decision.
Can product reviews increase ecommerce conversions? Yes! An interesting case study showed that one major online retailer, Shoes.com, experienced a 119% increase in conversions after offering product ratings & reviews. The shoe site also reports that people who click on product reviews are more than twice as likely to buy than non-clickers.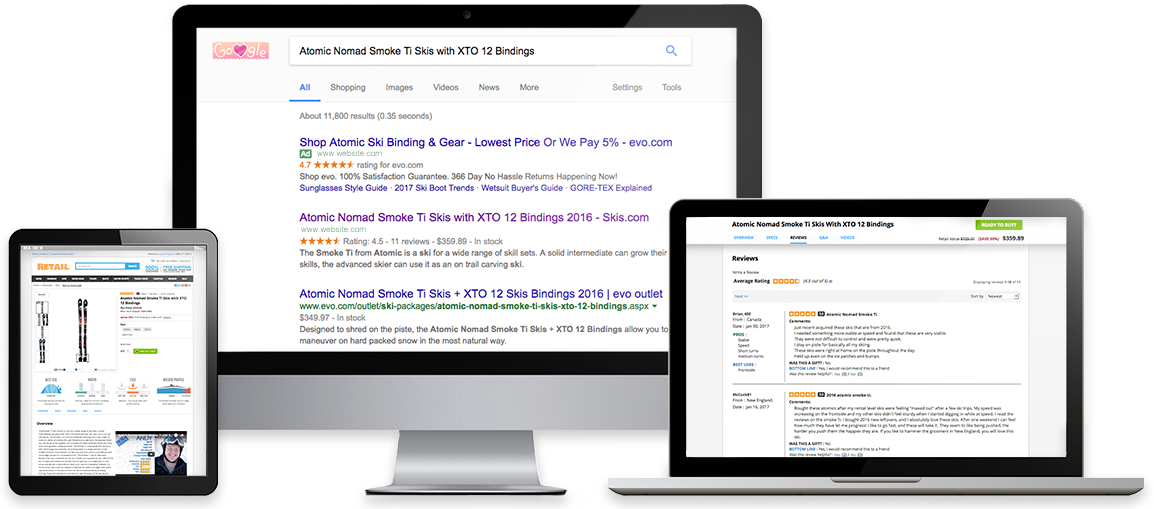 Further, according to statistics compiled by Econsultancy.com, the effect of prominently displayed customer-generated reviews is just the ticket for a significant increase in conversions. It found that:
eCommerce customers who diligently read both reviews and customers' questions and answers are 105% more likely to make a purchase while visiting the site.
Fifty or more reviews per product translates into a 4.6% increase in conversion rates.
63% of customers are more likely to buy from a site that features user reviews.
Ecommerce shoppers consider consumer reviews to be nearly 12 times as trustworthy as manufacturers' descriptions.
Customer ratings & reviews produce an 18% average boost in sales.
Customer reviews are the future of ecommerce and one of today's most effective ways to increase sales, so get with the program. Here are five ways you can use product reviews to drive conversions.
Bad Reviews Can Be Good for Business
If you dread bad reviews, you've never been an ecommerce shopper. Online customers love to read the bad reviews along with the good ones. In fact, a small smattering of unfavorable reviews can make your positive reviews look more legitimate. As a rule of thumb, up to 6% of your product reviews can be negative without affecting the many great reviews and ratings. If you have 50 user reviews for a particular product, three negatives can make your 47 positives glow even brighter.
Consumers are not as gullible as P.T. Barnum imagined, and most can spot a fake review or testimonial a mile away. Studies have shown that one third of online customers assume that product reviews are fake when no negative reviews are included. There's no need to fear the occasional negative user review. It gives you a chance to respond quickly to solve the customer's problem and prove that your business is committed to customer service.
Keep Your Product Reviews Front and Center
Many ecommerce shoppers wouldn't dream of making a purchase without first reading verified reviews from customers who already bought the product. Keep your rating system and product reviews prominently displayed and accessible. One of the most successful online shopping sites, eBay, features a visual 1-to-5 star rating and a link to its product reviews directly below the product title. The same goes for Amazon. Reviews that work the best in converting browsers to paying customers are those that contain accurate information about the product's features, price, benefits, and what sets it apart from other similar products.
Customer Reviews are a Wellspring of SEO Keywords
While most websites run the same old manufacturer's description or some variation of it, a user-generated review section breathes new life into your search engine strategy with important keywords presented in a unique and interesting way. Many online customer reviews are so detailed and creative that they are enjoyable to read, urging online visitors to spend more time on your site. One of the most searched keywords is [product name] + [review], and keyword-heavy customer reviews fit the bill perfectly.
Make Your Ratings & Reviews User Friendly
Ecommerce shoppers like to explore product reviews carefully at their own pace. Make it easy for them to navigate the reviews, listed from highest rated to lowest, with links to each set of ratings (5-star, 4-star, etc.), much like Amazon does on its product pages. Encourage users to add their own reviews in order to offer a wide variety of opinions and expand your search engine presence.
Tell It Like It Is
The purpose of a review is to let the consumer know if a particular product is right for their needs. So, the more honest your product reviews are, the more accurate the descriptions will be. Plus, online shoppers appreciate not being bombarded with "fluff" reviews that accentuate the positive only. For example, a new laser picture-hanging tool may not be accurate enough for a professional contractor but will serve the purposes of a do-it-yourself enthusiast, so let your product reviews and customer ratings reflect that.
If you're looking to optimize your website's conversion strategy, product reviews and ratings are a great place to start.