Referral marketing can be an extremely powerful and effective tool for increasing sales and broadening your customer base. In today's social climate, consumers simply don't trust traditional ads. In fact, one study says that 84% of millennials don't like brand advertising and do not trust brand messages. Meanwhile, consumers are increasingly seeking reviews or recommendations for products via referrals. By offering rewards for referrals, you are expressing appreciation for your existing customers while also tapping into the peer trust factor. Ideally, loyal customers would naturally refer friends and family to your brand. However, consumers are much more likely to make the effort of advocating for your company if they are offered some sort of reward or incentive.
While the concept of the customer referral is simple and effective, there are several errors that can essentially destroy a referral program. While some of these mistakes may seem innocuous, they can have a major effect on your company's success. Here are five things to avoid in your customer referral program.
Disparity Between Your Offerings and Customer Needs
It's very important to understand which sort of rewards appeal to your consumer base. If your customers buy from you on a weekly or monthly basis, then it's logical to incentivize referrals with account credits or discounts off future purchases. However, to broaden your reach beyond your frequent shoppers, you may consider offering an outside gift card or access to soon to be released items.
Recent economic trends have produced a market with a high value for cash and fuel. A 2016 Nielsen Harris Poll found that 77% of Americans prefer to be rewarded for referrals with money. Fuel or fuel discounts is another coveted reward. 73% of consumers agree that the best promotions offered fuel discounts.
Similarly, it is important to ensure that your rewards are worth the effort. If your customer goes through the effort of referring a dozen friends, for instance, he or she will want a reward to match. Providing rewards that are too small or irrelevant will quickly discourage customers from engaging in your campaign.
A Weak Campaign
A referral program is all but pointless without a strong referral marketing campaign that can notify your customers about its benefits. Your campaign should include a strong call to action, well-worded emails and an ample amount of visibility for your referral program on your homepage.
Your call to action should be the heart of your campaign. A good CTA will be enticing enough to make the consumers want to learn more. Meanwhile, your referral program should have its own dedicated page on your site. This page can contain a more comprehensive description of the campaign as well as the terms and conditions of participation. Not all the aspects of your referral campaign are going to be fun, and it is important to lay down the ground rules to ensure that both you and your customers are protected. While including those rules in the email can lead to an email that is simply too long to read, the rules do need to be clear and easy to find.
Failure to Use Visuals
Images and video are some of the most powerful online marketing tools that are available to advertisers. Humans are able to process visual information much more quickly than written text. And while the average email-reading time has seen a 7% increase, most individuals would still prefer an image to lengthy text.
A quick video or a well-constructed image can be the difference between having your email ignored and having a new brand advocate.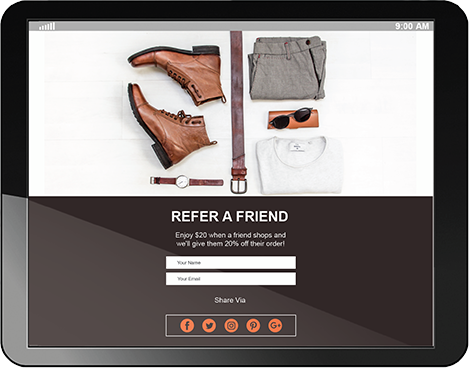 Not Utilizing Mobile Technology
Your entire referral marketing campaign should be omni-compatible with mobile technology. With the majority of individuals now using their phones or tablets to browse and read email, the mobile market has simply grown too large to ignore. Meanwhile, referral content that is not mobile-compatible will render poorly and load much smaller when accessed through a mobile device, which means that all of your carefully crafted campaigns will be essentially useless.
Furthermore, any campaign that fails to be compatible with mobile technology will hurt your company's visibility in search results and decrease engagement. Google will automatically lower the rank of websites and content that is not mobile compatible.
Making It Too Hard for Consumers
Your referral program should be simple and intuitive. You should have a clear link to the referral email, to the referral site, easy options for referrals such as emails or social media, and easy ways to log and redeem rewards points. Even if a program offers reasonable rewards, consumers are likely to give up if they have to put in too much time and effort into referring your company.
Avoiding these errors can help ensure that your referral marketing campaign sees the success it deserves.