Advocacy through Visual Commerce: a Breath of Fresh Air
Visual commerce is incredibly popular right now, and with good reason. 63% of US consumers and 66% of UK shoppers trust consumer photos more than brand photos. Visual commerce raises click-through rates by 15-20%, and Annex Cloud's clients have seen, on average, site conversion rates increase by 5-7% after implementing it.
Despite facts like these, only 27% of marketers have a system for aggregating, organizing, and managing the visual assets their team uses. An even smaller percentage have such a system for user generated visual content.
Watch our webinar recording for an in-depth look at how brand advocacy and visual commerce support each other. We'll discuss topics including:
Creating an authentic, immediate, and rewarding customer experience
Personalizing the delivery of visual content
Dynamic product association
Instagram shopping, enabled by our new visual commerce feature, Shoppic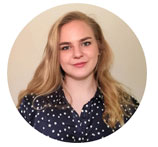 Presenter
Eliza Fisher
Marketing Associate
Annex Cloud
This webinar already happened.
Please fill out the form below to watch the recording.